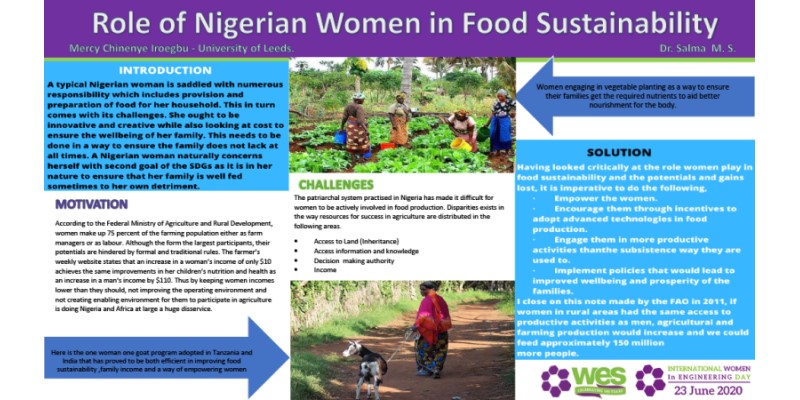 Postgraduate student Mercy Iroegbu awarded 1st prize in the International Women in Engineering Day Poster Competition (INWED).
Mercy Iroegbu recently completed her masters degree in Electronic and Electrical Engineering at the University of Leeds. Her poster, title 'Role of Nigerian Women in Food Sustainability' was awarded the top prize in the postgraduate category in the recent International Women in Engineering Day Poster Competition (INWED).
Through her poster, Mercy critically examined the role women play in food sustainability in Nigeria – from the challenges they face to providing solutions to overcome these challenges. Mercy said, "I'm delighted and thankful to the Women in Engineering Society for this award. I am so grateful for the mentorship I've received from Dr Salma Al Arefi. She's the inspiration behind this project and I would like to dedicate the award to her for always encouraging and pushing me to do better".
Dr Salma Al Arefi added,
Mercy is a very enthusiastic female engineer who thrives for opportunities to help improve the visibility of women in engineering.
"It has been great pleasure to mentor and support Mercy during her academic journey at Leeds. Her aspiration and great commitment to excel as a young woman in engineering have always impressed me."
The INWED20 University Poster Competition was organised by the Women in Engineering Society in celebration of the International Women in Engineering Day 2020. This year's theme was focused on Sustainability, titled "Shape your world for a sustainable future".
The competition was open to all undergraduate and postgraduate university students and entrants were invited to create a poster demonstrating how sustainable engineering can be used at a local scale working towards achieving one or several of the 17 sustainable development goals (SDGs).
Further information
National Women in Engineering Day was launched for the first time in the UK on 23 June 2014 by the Women's Engineering Society (WES) to celebrate its 95th anniversary. You can read further on how we celebrated the International Women in Engineering Day by taking a look at the fantastic achievements of women across the Faculty of Engineering and Physical Sciences.