School of Chemistry Postgraduate Conference 2019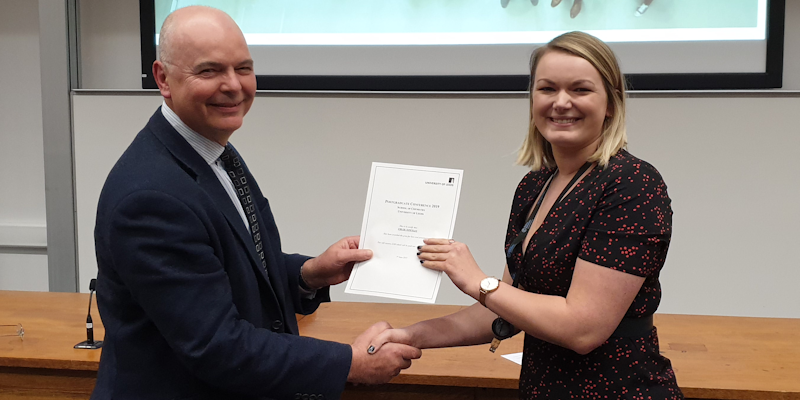 The School of Chemistry held its annual Postgraduate Research Conference recently, showcasing the cutting edge research being carried out within the School.
Talks and poster sessions were held over two days on a wide range of topics such as modulation of ion channels, engineering synthetic glycoproteins, nanoparticles for catalysis and materials applications, and chemical processes in the atmosphere.
The plenary speaker was Professor Rachel O'Reilly from the University of Birmingham who rounded off the two-day event with an impressive narrative of her interdisciplinary work on polymers and self-assembly, including an anecdotal account of her academic career to date.
The prize winners for best oral presentations were Chloe Townley (1st prize, Nelson & Marsden groups), Emma Cawood (2nd prize, Wilson group) and Kristina Paraschiv (3rd prize, Wilson group). The prizes winners for the best poster presentations were Rosie Hamill (1st prize, Nguyen and Blacker groups), Namrah Shahid (2nd prize, Halcrow & McGowan groups) and Marcos Arribas Perez (3rd prize, Beales group). Abbie Leggott received the Dr Kate Furneaux Prize, a special prize for the most meritorious non-academic contribution to postgraduate life within the School, for her work with the postgraduate committee.
The conference was generously sponsored by Asynt, Royal Society of Chemistry, ThermoFisher Scientific, Fluorochem, Apollo Scientific, IKA, and Radleys.