Leeds joins new university engagement program with Keysight Technologies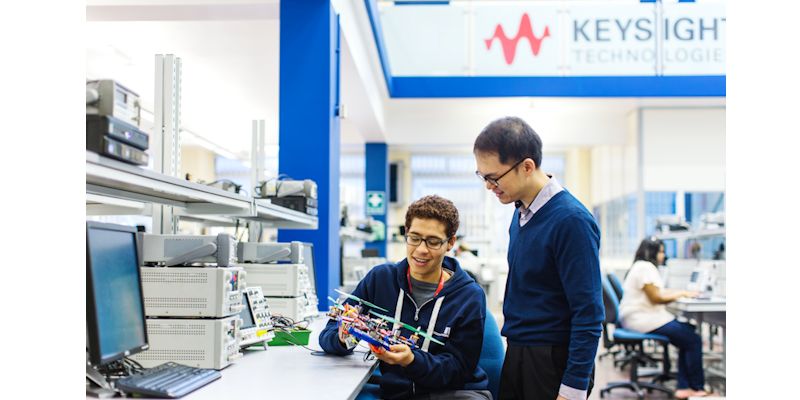 The University of Leeds has joined a new university engagement program announced by electronics company Keysight Technologies to foster the development of industry-ready engineers.
The new program will work with leading European universities including Paris Sud University, University of Leeds, University of Manchester and Aschaffenburg University to provide students with real-world business and technical experience.
It will aim to facilitate a continuous set of activities and knowledge sharing between Keysight and the participating universities and will develop teaching materials and other resources to enhance the university's curriculum and student's learning experience. A structured internship will also offer opportunities for hands-on business and technical experience.
"The University of Leeds has a long-standing relationship with Keysight Technologies in both teaching and research," said Professor Ian Robertson, Professor of microwave and millimetre wave engineering in the School of Electronic & Electrical Engineering. "This new scheme will give students even more opportunities to work with the world leader in electronic design automation and test for wireless communications systems."
"Investing in the promising young talents is a significant part of Keysight's policy," said Benoit Neel, vice president and general manager, Keysight Technologies. "We are privileged to be able to collaborate with leading academic centres in Europe, famous for their exceptionally high standards of teaching programs. As a company we, recognise students of these universities as our future."
The program is open to interns and graduates studying electronics, energy systems, wireless communications, computer science, materials science, photonics and optronic systems or an equivalent degree.
Student wins Keysight Competition
In related news, Bioelectronics student Roberts Rimša, who works in the Institute of Microwaves and Photonics has won a Keysight Technologies international social media competition where students were asked to 'Share their vision'. Roberts takes home a handheld Digital Multimeter for both himself and for the School. He will be presented with the prize later this year.
Related news
Keysight Technologies - Students to benefit from Keysight university program