Chemistry graduates' work published in Nature Communications journal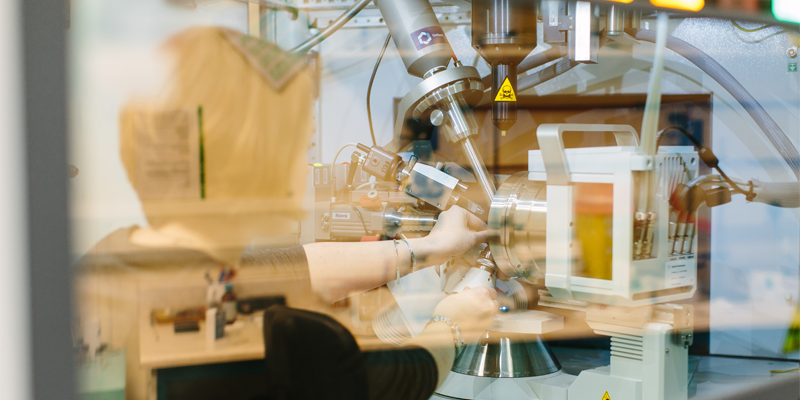 School of Chemistry graduates Peter Minshall and Gabriella Cousins' have had their work published in the Nature Communications journal.
The journal covers the natural sciences, including physics, chemistry, Earth sciences, and biology.
Peter's work on 'Plasma dye coating as straightforward and widely applicable procedure for dye immobilization on polymeric materials' introduces a novel concept for the fabrication of coloured materials with significantly reduced dye leaching through covalent immobilization of the desired dye using plasma-generated surface radicals.
It was also nominated for the Royal Society of Chemistry Emerging Technologies competition in 2017, which aims to accelerate the commercialisation of innovative technologies within health, energy and environment, food and drink and materials and enabling technologies. Peter's work can be read here.
Gabriella's work on 'Dye Modification of Nanofibrous Silicon Oxide Membranes for Colorimetric HCl and NH3 Sensing' focuses on colorimetric sensors for monitoring and visual reporting of acidic environments both in water and air, and how organically modified silicon oxide nanofibrous membranes are produced by combining electrospinning and sol‐gel technology. Gabriella's work can be read here.
Both graduates were awarded the Rowe Goodall Bursary during their studies which they utilised to further their education in colour chemistry. Peter and Gabriella undertook their placements at Dr Richard Hoogenboom's Supramolecular Chemistry Group at the University of Ghent, Belgium.
The bursary was established thanks to a bequest from Frank Manchester, in memory of Professor M.F. Rowe and Mr F.L. Goodall. The bursary aims to support studies in the field of colour chemistry and encourage undergraduate students to further their knowledge of the subject and related topics in Europe.
The scholarships are available to current undergraduate students, within the School of Chemistry, who have taken at least one colour science taught module. Applications from students for an internship, during or immediately at the end of their studies, will be considered. Candidates will be selected based on their knowledge of colour science, evidenced through the taught modules taken, summer research and course projects, as well as academic performance.
Further information
Find out more about the Rowe Goodall Bursary by visiting the website.
For further information on the Royal Society of Chemistry Emerging Technologies Competition 2018, visit the website.