Careers and employability
Internship opportunities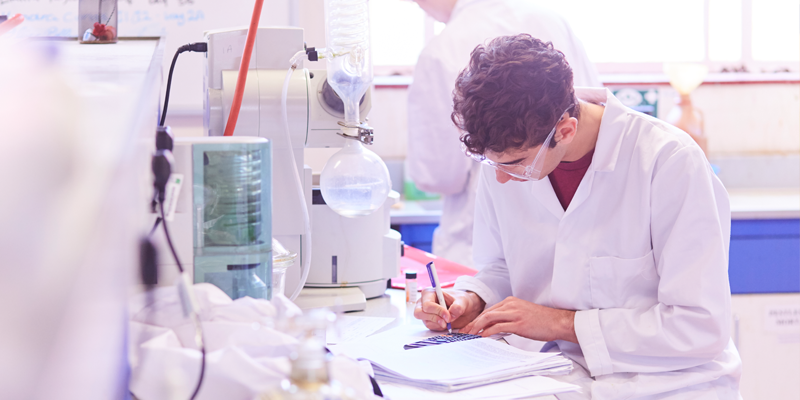 During your time at Leeds you will have the opportunity to apply for work experience opportunities that will help to further build your skills and strengthen your CV. These can be summer internships, industrial placement years or you may even consider studying abroad.
Rowe Goodall Bursary
The Rowe Goodall bursary has been established thanks to a bequest from Frank Manchester, in memory of Professor M.F.Rowe and Mr F.L.Goodall.
The bursary aims to support studies in the field of colour chemistry and encourage undergraduate students to further their knowledge of the subject and related topics in Europe.
Funds will be made available for two summer internships in Europe at a value of up to £3,500 each.
Placements will usually be up to 2 months in duration. The subject of study during the placement must be related to colour science.
Candidates will be encouraged to find their own placements, however staff within the School of Chemistry will provide assistance.
Eligibility criteria
The scholarships are available to current undergraduate students, within the School of Chemistry, who have taken at least one colour science taught module. Applications from students for an internship, during or immediately at the end of their studies, will be considered.
Candidates will be selected based on their knowledge of colour science, evidenced through the taught modules taken, summer research and course projects, as well as academic performance.
Conditions
All costs associated with accommodation and travel must be agreed in advance of the placement.
On completion of the internship, recipients of the bursary will be required to produce a minimum of one side of A4 reporting on their experiences, to be submitted by 1st October in the same year as the placement is taken.
The majority of the funds will be paid in advance of the placement taking place but a small amount (£250) will be retained until after completion of the report.
School internships
We recruit a number of students to work during the summer months on research projects or teaching and learning projects. These are supported with personal development workshops and provide an excellent basis for students then wishing to apply for industrial placements with industry.
Undergraduate Research and Leadership scholarships
We also offer a number of alumni-funded scholarships to support you to develop research skills over two consecutive summers, led by an academic specialist. As well as participating in established academic research, you will develop leadership skills through training, conference attendance and an outdoor trip in the Yorkshire Dales.
Recent examples of these projects include:
Membrane biophysics approaches to investigating the potential toxicity of engineered nanoparticles
Chemical/Enzymatic modification of proteins for drug delivery applications
Funded vacation bursaries
Each year we provide students with opportunities to complete a research project over the summer. You'll be given practical, first-hand experience of working on and carrying out research in the School. The projects usually last around 6-10 weeks. Examples of recent projects include:
Targeting mRNA export pathways as a novel antiviral strategy for Kaposi's sarcoma-associated herpesvirus
Developing problem-based learning experiments for the undergraduate teaching laboratories
Re-engineering bacterial toxins for drug delivery
Employability interns
We recruit student interns each year to support the work of the Faculty Employability team. The Intern team focus their time on the development of school newsletters highlighting placement and internship opportunities for students
The employability interns provide a valuable link to the wider student body, providing feedback to help shape the services that the Employability Team provides. Working in these roles not only provides financial support for the students, but an opportunity to develop skills and experience for their own CVs.
Leeds Internship Programme
We advertise a range of smaller, 8-12 week paid internships in local SMEs, charities, University of Leeds departments and multi-national organisations. Over half of these opportunities are exclusive to University of Leeds students meaning that the number of students you are competing against is lower than if it was a national scheme.