Postgraduate researcher in School of Mathematics donates laptop to school in Ghana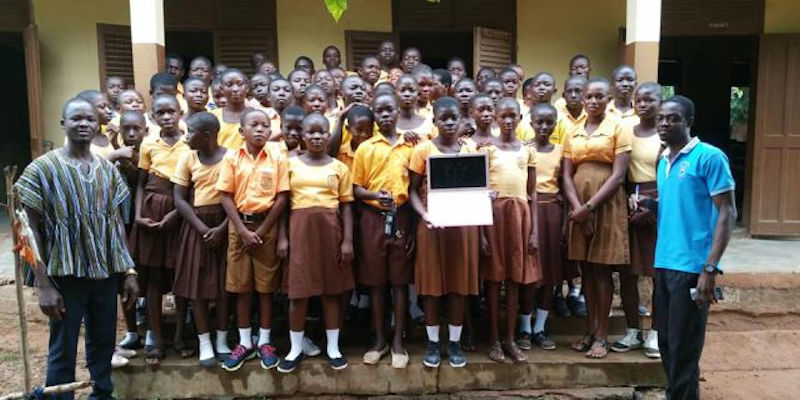 Postgraduate researcher in the School of Mathematics at Leeds, Amirah Alharthi was the first to donate a laptop computer to Owura Kwadwo, an ICT school teacher in Ghana.
Owura Kwadwo recently gained fame for teaching students how to use Microsoft Word using a detailed drawing on a school blackboard, as his school didn't own a computer.
The photos of Owura went viral on social media which prompted donations of computers to the school. Amirah donated a brand new laptop which was followed days later by another donation of five desktop computers for the school and the gift of a laptop for Akoto's personal use by NIIT, a computer training school headquartered in Accra, the capital of Ghana. The school had no computers even though since 2011, 14 and 15-year-olds in Ghana are expected to write and pass a national exam (without which students cannot progress to high school) with ICT being one of the subjects.
Amirah commented on why she chose to donate the laptop:
"I was inspired by the teachings of Islam which consider that useful knowledge is crucial for the benefit of the self and humanity. Also, there are so many very smart people but humanity has already lost intelligence just because people did not have fair opportunities. I believe people should focus more on encouraging others who are less fortunate to have better learning circumstances, better lives and then a better world."
"I do wish that I have the ability of improving learning conditions around the world and it will be a dream come true for me if my donation can help the children learn."