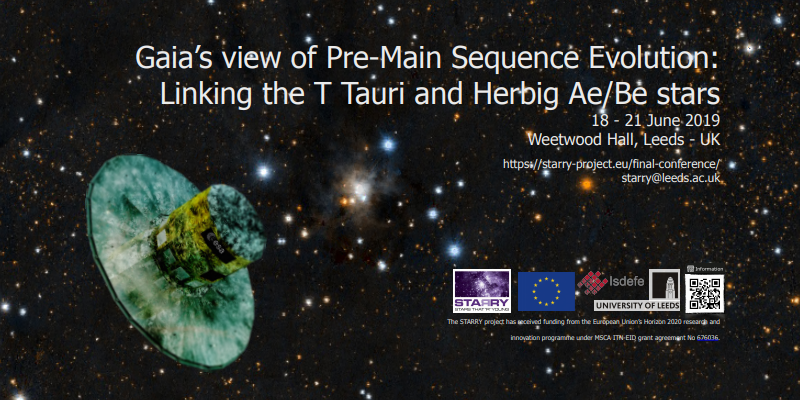 Date: Tuesday 18 June 2019, 09:00 – 17:00
Location: Weetwood Hall
Interval: Every day
Until: Friday 21 June 2019
Type: Conferences
Cost: £150
STARRY Final Conference, Gaia's view of Pre-Main Sequence Evolution: Linking the T Tauri and Herbig Ae/Be stars
The aim of this conference is to bring experts together and discuss their latest results on star formation, probe the links between the T Tauri stars and Herbig Ae/Be stars in more detail and to bring the respective communities together to compare and contrast the properties, appearance and formation mechanisms of both types of object.
The conference will take place at Weetwood Hall in Leeds, and will last 3.5 days from Tuesday morning on 18th of June 2019 until Friday midday on 21st of June 2019.
The social programme includes a welcome reception on Monday night, a visit to the world renowned Royal Armouries is scheduled for Tuesday night and the conference dinner takes place at the University on Thursday night. Lunches are also included in the conference fee.
Confirmed speakers include:
Evelyne Alecian, France
Allessandro Bressan, Italy
Sean Brittain, USA
Jerome Bouvier, France
Nuria Calvet, USA
Antonio Garufi, Italy
Lee Hartmann, USA
Lynne Hillenbrand, USA
Alcione Mora, Spain
James Muzerolle, USA
Antonella Natta, Ireland
Christian Schneider, Germany
Contact Ms Patricia Grant, the SFM project Manager for more details.