Cancer-screening technology pioneered by leader in surgical robotics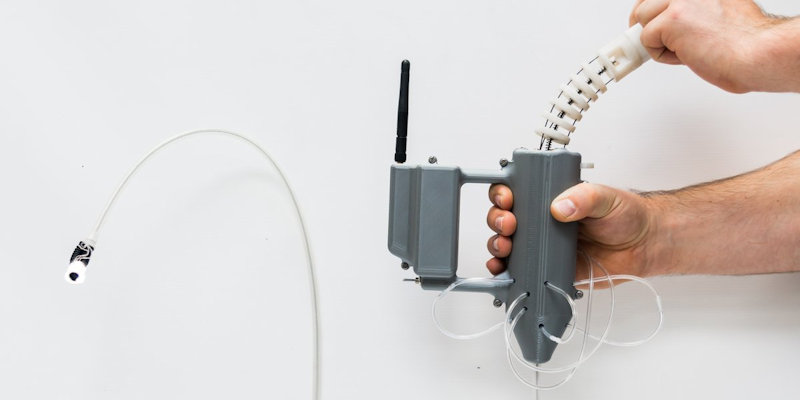 The Magnetic Flexible Endoscope, a device which can painlessly examine a human colon to detect signs of disease, was praised at a principal surgical robotics competition last week.
The prototype endoscope was developed Professor Pietro Valdastri and his research team and it uses robotic technology and magnetic coupling to perform non-invasive screening procedures.
By radically re-shaping how the endoscope works, is manufactured and used, the team have proposed a solution which offers the potential to revolutionise cancer screening.
Screening could potentially be painless
In traditional screening methods the endoscope is introduced to the colon by being pushed through the body, which stretches sensitive tissue. More than half of the procedures that were not completed was due to pain, the researchers say.
The team's proposed procedure will begin by inserting a tiny magnetic capsule into the patient. The capsule is equipped with a camera, and tool channel for biopsy and illumination. A robotic arm mounted with a set of magnets has the ability to pull this device through the body. The capsule is coupled with the robot arm by the force between those mounted magnets and its own internal magnet.
Their platform has driving system to manipulate the position of the magnet, giving control of the endoscope inside the colon. Altogether, this comprises the Magnetic Flexible Endoscope, a platform which allows the screening procedure to be very flexible.
This technology also has a real-time localisation system, which is informed by an algorithm so that it is able to pinpoint and respond to the capsule's location. The team have been able to pursue full autonomous navigation, making it low-cost and easy to use.
Professor Valdastri said:
"The technology has the potential to change the way doctors conduct examinations of the gastrointestinal tract."
Competing internationally
The team presented the Magnetic Flexible Endoscope as during the 2019 Surgical Robot Challenge, part of the Hamlyn Symposium on Medical Robotics this week. The event is a leaders' forum on the application of technology in clinical practice. It brings world-leading medical, research, industry and academic experts together.
As a result of the technology being developed by Professor Valdastri and his team it could be possible to detect gastrointestinal disease – including cancer in its earliest stages – with mass screening. It will be widely accessible due to its improved usability and reduced costs, meaning non-specialists can safely perform the procedure.
The Magnetic Flexible Endoscope will also encourage more people to attend regular screenings to detect and prevent gastrointestinal disease.
Its first human trails are set to be performed within the next two years.