Overview: Comprises of a suite of laboratories including 200 m2 ISO 5 (Class 100) cleanroom supported by > 100 m2 of ancillary laboratory space for testing, packaging and post-processing, alongside a 30 m2 ISO4 (Class 10) cleanroom dedicated to our Jeol JBX-6300FS electron-beam lithography (EBL) system.
Contact name: Dr Chris Wood
Phone: +44(0)113 343 8335
Email: c.d.wood@leeds.ac.uk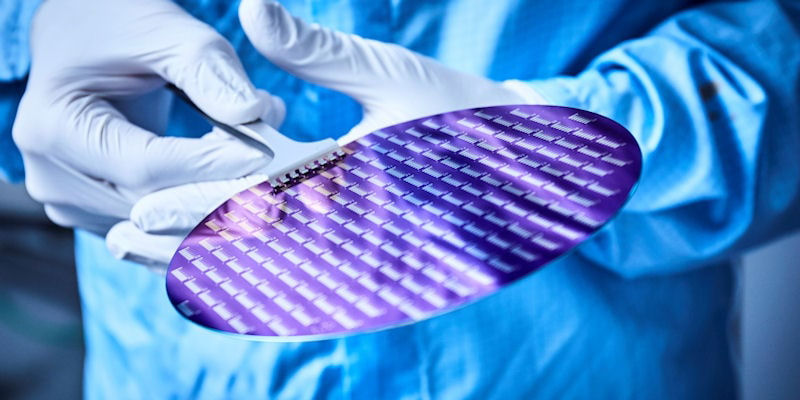 Hosted within the School of Electronic and Electrical Engineering at the University of Leeds, the Leeds Nanotechnology Cleanroom comprises a suite of laboratories including 200 m2 ISO 5 (Class 100) cleanroom supported by > 100 m2 of ancillary laboratory space for testing, packaging and post-processing, alongside a 30 m2 ISO4 (Class 10) cleanroom dedicated to our Jeol JBX-6300FS electron-beam lithography (EBL) system.
Within our cleanroom suite, we offer a broad platform of tools to support most fabrication and processing requirements in micro and nanotechnology, including for photo- and electron-beam lithography, physical and chemical vapour deposition, wet and dry etching and post-processing/packaging, alongside a range of electrical, optical, electron-beam and surface characterisation capabilities.
These facilities support a range of cutting edge research activities including, for example, for the fabrication of nano-magnetic and spintronic devices, microfluidic devices for biomedical applications, high-frequency (MHz to THz) electronics, photonic devices, quantum cascade lasers and hybrid bio-electronic materials.
These activities are supported by the unique blend of micro- and nano-fabrication expertise provided by our dedicated team of cleanroom support staff, which includes two experimental officers, a technician and two academic leads.
Equipment
Our specialist equipment includes:
Lithography:
Jeol JBX-6300FS EBL: A state-of-the-art vector scan electron beam lithography system capable of defining sub-10-nm features on up to 6" wafers.
Heidelberg MLA150: A 375 nm direct-write lithography tool for use with all Novolac and SU-8 photoresists on substrates sizes including piece-parts up to 6" wafers.
EVG 610: For photolithography on up to 6" wafers, with back-side alignment capabilities.
Additional UV photolithography: A further two Karl Suss MJB-3 UV mask aligners offer vacuum, contact and proximity alignment capabilities.
Physical vapour deposition:
Angstrom NexDep: This electron-beam evaporator comprises a long-throw (70 cm) chamber, automated load lock system, orbital and angled deposition capabilities and a gridless ion-beam source for ion-beam assisted deposition.
Leybold Univex 350 electron-beam evaporator: A general tool for deposition of Ti, Au, Pt, Ag, Ni, Cr, Ta, Al, Cu, Py and SiO2 thin films.
Kurt Lesker PVC 75 sputtering system: This system offers substrate rotation and heating, and plasma pre-cleaning alongside two DC and one RF source for deposition of ZnO, Ti, Cr, Mo, Al, SiO2, Cu, Nb, and Au films onto up to 6" wafers.
Additional PVD capabilities: We host three thermal evaporators, including a Leybold Univex 300 dedicated to AuGeNi Ohmic-contact deposition, alongside two general-use Edwards auto306 tools.
Chemical vapour deposition:
Plasma-Therm Vision 310 Plasma Enhanced Chemical Vapour Deposition (PECVD): For dual-frequency, stress-controlled deposition of SiO2, SiN and SiOxNy films.
Veeco Fiji 200 Atomic Layer Deposition (ALD): Ultra-thin, ultra-conformal thermal or plasma-enhanced films can be formed in materials including oxides and nitrides of Ti, Hf, Al and Sn.
Dry etching:
Plasma-Therm Apex SLR Inductively Coupled Reactive Ion Etcher (ICP-RIE): For etching III-V semiconductor materials using Cl2, BCl3, SiCl4, Ar, N2, O2 and SF6 gas chemistries.
Scia Mill 150 Ion Beam Etching (IBE): The 218 mm ion source provides Ar ion etching and chemically assisted IBE capabilities using CHF3, O2, Cl2 and BCl3 chemistries.
JLS Designs Minilab 80 parallel plate RIE: A general-use tool for etching e.g. Si, SiN and SiO2 materials using CHF3, CF4, O2, Ar and SF6 chemistries, alongside depositing fluorocarbon layers for microfluidic mould preparation.
Characterisation:
Woollam M-2000XI spectroscopic ellipsometer: A 245nm to 1000nm (470 wavelengths) light source with NIR extension of 1000 - 1690 nm (200 wavelengths), alongside automated angle, z, tip-tilt, and X-Y mapping (100 mm travel) with micro-spot optics (short axis spot size of 80 µm) for optical characterisation of thin films (< 2 µm thick).
Zeiss Leo 1530 FEG SEM: A GEMINI column offering 1 nm resolution @ 30 kV and 3 nm resolution @ 1 kV, with a x20 to x900,000 magnification range, supported by an automated Agar desktop sputter coater.
KLA-Tencor Alpha-step IQ surface profiler: offering step-height and line-roughness measurements.
Digital Instruments Dimension 3100 atomic force microscope (AFM): a vibration-isolated AFM driven using a Nanoscope IVa controller, producing a maximum image size of 100 µm x 100 µm.
Packaging and post-processing:
Applied Micro Engineering AML-AWB-04 wafer bonder: for bonding piece-parts up to 4" wafers with 1 – 5 µm alignment accuracy and up to 25 kN force, temperatures of up to 560°C, and biases of up to 2.5 kV for Au-Au thermo-compression or Cu-Cu formic acid bonding.
Loadpoint Microace 66 dicing saw: A 6" chuck wafer saw compatible with resin and hubbed blades.
Annealsys AS-One rapid thermal annealer: Capable of anneal temperatures up to 1000°C and fitted with N2 and forming gas (5% H2 in N2) feeds.
Logitech PP5 lapping and polishing: For controllable lapping/polishing of substrates up to 4" in diameter, including Si, crystalline quartz and GaAs.
JFP Microtechnic S100 scriber and breaker: Fitted with controllable scribe descent and stitch-scribing capabilities, for scribing and breaking up to 4" wafers.
Kulicke and Soffa 4524 and 4124 ball and wedge bonders: For both individual and stitch Au-wire bonding.
The above equipment and capabilities are supported by a broad range of ancillary equipment, including dedicated solvent, acid and HF wet benches, UVO cleaners, vacuum ovens, ultrasonic baths, dark-field and bright-field upright microscopes, O2 plasma asher, electrical probe stations and dedicated spin coaters for positive and negative photoresists, e-beam resists and PDMS.
Who can use the facility?
We are committed to sharing our facilities and expertise with external academic and industrial collaborators. For internal enquiries, please contact Dr Chris Wood, e: c.d.wood@leeds.ac.uk, and for external enquiries please contact the Royce Institute for Advanced Materials, e: royce@leeds.ac.uk