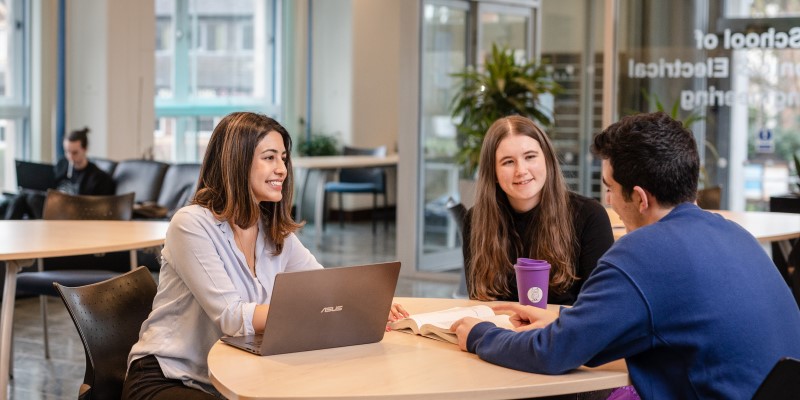 You will study in the School of Electronic and Electrical Engineering, which is situated on the edge of campus and home to a friendly, supportive and diverse community of students and researchers who come from all over the world.
You will have access to excellent teaching facilities, including electronics laboratories and teaching space, supplemented by extensive computing equipment. Our specialist facilities include laboratory space for a wide range of electronics projects, experimental rigs for renewable and smart energy systems, robotics, ultrasound and embedded systems, providing a creative and stimulating learning environment.
We are continually investing in the best facilities, and you will find everything you need for your studies right here on campus.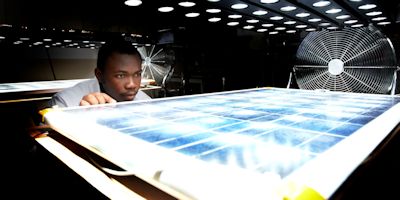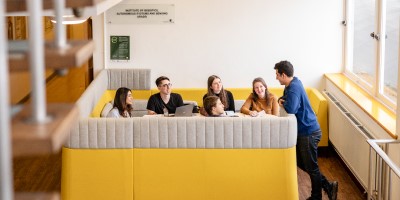 Laboratories
Our electronics laboratories have state-of-the art equipment including the latest digital oscilloscopes and waveform generators. We also have specialist manufacturing and prototyping equipment including laser cutting and additive manufacturing (3D printing) machines. You will also have access to our specialist electronics laboratories to work on projects related to microwave, communications and power applications. Both undergraduate and postgraduate taught students have access to these facilities.
Our robotics innovation laboratory provides an experimental project space for Year 3, Year 4 and postgraduate taught students on Electronic and Electrical Engineering and Mechatronics and Robotics programmes to undertake projects involving swarm robotics using drones, soft robotics, and self-driving vehicles.
We also have an industrial robotics facility with ABB robots, as used throughout industry for automated assembly. Recent projects have included developing 1:1 motion control using computer vision, playing the xylophone with robots and replicating manufacturing environments, enabling pick and place of small components on a moving conveyor using high precision cameras.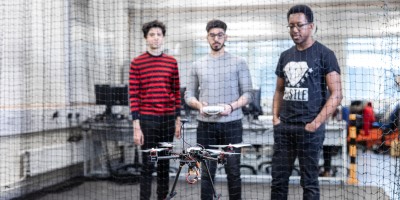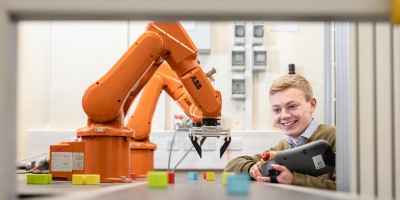 Our ultrasound laboratory is used for building highly customised ultrasound, capable of transferring several DVDs worth of information per second. Ultrasound project work on instrumentation and imaging systems is undertaken in this laboratory. Research examples include developing systems for detecting cracks in pipelines, monitoring silt build up in nuclear waste disposal tanks, and controlling microbubbles for targeted drug delivery for new cancer treatment.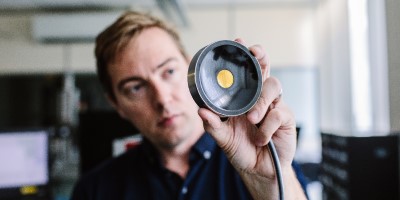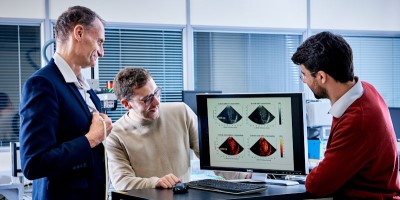 Our embedded systems laboratory is sponsored by ARM, as part of the ARM University Programme. This programme enables educational use of ARM technology, providing a variety of teaching materials, hardware platforms, software development tools, IP and other resources for educators, researchers and students.

Similar to all our laboratories, the NXP Electronics Project Laboratory is equipped with a vast range of industry-standard software. You will access this laboratory to work on your undergraduate final year project or Masters level project, involving both hardware and software design, specialised in varied fields including medical robotics, embedded systems, laser optics and renewable energy. You can view a 360 tour of the NXP Electronics Project Laboratory here.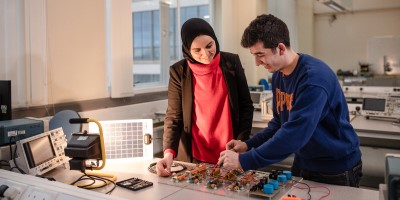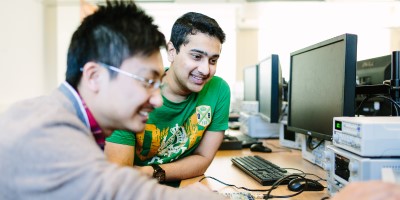 Shared facilities
Lecture theatres and seminar rooms containing the latest audio-visual technology and professional presentation equipment. Find out more.
Study areas and dedicated computer clusters including a 24 hour cluster. View a 360 tour of the computer cluster here.
Social spaces and the Fuse café make great places to relax or meet and work with friends and colleagues.
Our dedicated employability hub gives you access to industrial placements, internships, employability sessions, presentations and workshops delivered by employers and graduate opportunities.
University facilities
<iframe width="560" height="315" src="https://www.youtube.com/embed/u4GTHjXbM_Y" frameborder="0" allow="accelerometer; autoplay; clipboard-write; encrypted-media; gyroscope; picture-in-picture" allowfullscreen></iframe>
<iframe width="560" height="315" src="https://www.youtube.com/embed/6hAUrjUXmGQ" frameborder="0" allow="accelerometer; autoplay; clipboard-write; encrypted-media; gyroscope; picture-in-picture" allowfullscreen></iframe>