Hannah Salisbury
Course: Mathematics MMath, BSc
Year of graduation: 2019
Hannah Salisbury studied Mathematics MMath, BSc and has since accepted a homeroom teaching position at an international kindergarten.
Life after Leeds
Mathematics opens doors to a wide variety of challenging and rewarding careers and opportunities. We asked Hannah what she's been doing since graduating from Leeds. She said "I always knew after I finished my undergraduate degree I wanted to travel, so I researched the different job opportunities around the globe where I could gain work experience while travelling. Following my graduation in July 2019, I moved halfway across the world to start my first graduate job; teaching English in Shanghai for EF English First.
Through working with students of a wide range of ages, I refined my adaptability through delivering diverse and engaging lessons, not only limited to face-to-face lessons, but also evident in the quick transition to online teaching during the global pandemic of Covid-19. Teaching students English without being able to speak their native language was completely new territory for me, but I embraced the language barrier, improved my communicative competence, and consistently taught successful and effective ESL lessons; acknowledged in promotion to a higher teaching band within my first six months with the company."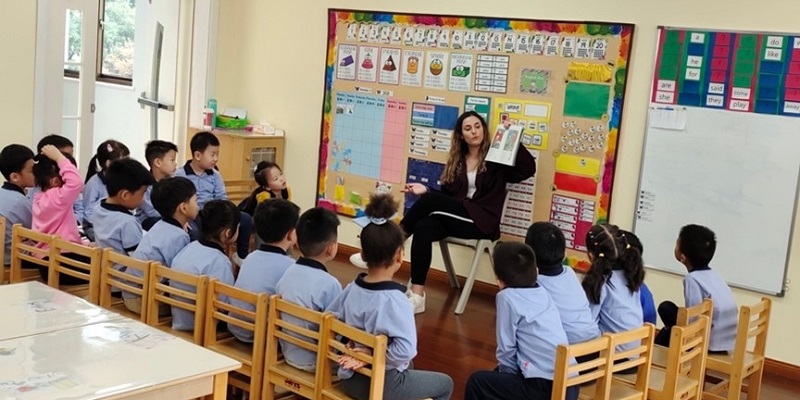 "A year later, I accepted a homeroom teaching position at an international kindergarten, which has allowed me to experience a completely different style of teaching. Working with as many as 24 students in a classroom environment, I have acquired and implemented a multitude of classroom management techniques, whilst becoming more confident in my teaching ability every day.
Through teaching a wide variety of subjects, I have demonstrated my flexibility and resourcefulness in providing fun, effective, and professional lessons. Kindergarten activities have tested and enhanced my creativity; whilst consistently planning interesting lessons, I have also built aesthetic displays for a variety of themes, choreographed and danced in concert performances, and devised theatrical plays with accompanying story books. Homeroom teaching has allowed me to appreciate the influence a teacher has on their students; watching the progress of a class throughout the year is highly rewarding."
Experiences to develop
After her second year of studying Hannah went and spent the summer in New Hampshire, USA, working at a summer camp for children aged 5-18 years old with social, emotional, behavioural and learning difficulties. She said "I learned how to be patient and empathetic towards children by fostering their growth and success through organised activities and constant engagement, as well as using a variety of de-escalation techniques during difficult behaviours.
I developed excellent team-working skills through being an integral part of the Day Camp team by consistently ensuring the kids had an enjoyable, educational and memorable experience, which was recognised by the Camp Directors and consequentially I received one of seven legacy awards at the end of the summer. "
"After a successful summer the previous year, I returned after finishing my third year studies and was promoted to the Administrator team where I worked in Camper Services. Being a supervisor to the counsellors and the children, I became a respected leader by maintaining positive rapport with everyone at camp, actively listening and effectively dealing with problematic situations, and by sustaining a confident façade. I developed my confidence and communication skills through training the counsellors, and by leading camp activities entirely by myself, where I built upon my public speaking skills.
This was my first experience of working abroad, and I believe this is where I found my passions for both travelling and working with children. I would recommend placements abroad to anyone who wants to learn about different cultures and meet new and interesting people from all over the world; I think pushing yourself out of your comfort zone in this way is the best way to broaden your mind and grow as a person."
Opportunities at Leeds
Being a PAL mentor was my first taste of being a teacher and I really enjoyed supporting other students; I truly believe that this role, along with my summer camp placements, confirmed to me that being an educator is what I am passionate about.
At Leeds there is a wide range of opportunities to get involved in with and teams to support, guide and advise you on your next steps. In her third year at University, Hannah volunteered to be a Peer Assisted Learning Mentor and met with first year Mathematics students for one hour every week to help them with their homework and any other course-related queries. She said "I honed my teaching skills through demonstrating how to work through different examples, by presenting in a classroom environment and confidently imparting my knowledge on a variety of different topics. Being a PAL mentor was my first taste of being a teacher and I really enjoyed supporting other students; I truly believe that this role, along with my summer camp placements, confirmed to me that being an educator is what I am passionate about. The experience I gained built the foundations for my current career. I continue to work on my professional development and will be completing my PGCEi course this year to further improve my teaching ability."
Advice and tips
"The MMath BSc course is challenging and requires a lot of hard work and determination, but the support offered by both staff and students alike is fantastic; I thrived during my time at the University of Leeds and the friends I made on my course are still some of my closest friends 3 years after graduating. Many people asked me what I wanted to do after studying Mathematics, the expectation was always a career that was heavily intellectually challenging and subject related, but this course gave me so much more than just subject related skills. I learned how to think critically and analytically, I honed my problem solving ability and can manipulate precise and intricate ideas, and using quantitative reasoning I can construct logical arguments which supports effective communication. All of these skills are needed in my personal and professional life, this degree has given me invaluable attributes and qualities, and I am forever grateful for my time at Leeds."
Find out more about our Mathematics MMath, BSc here.