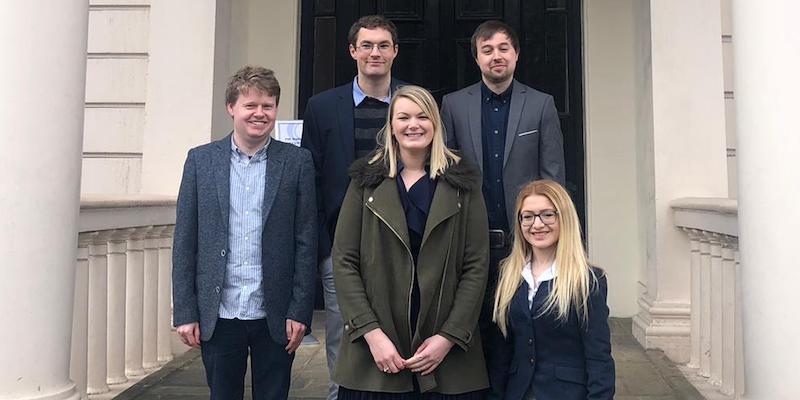 A team of five early career researchers from Leeds has won first prize at the 7th National SCI/ RSC Retrosynthesis Competition.
The Leeds team "Accident and Convergency", comprising of Andrew Gomm (PDRA), Andrew Harper (PDRA), Chloe Townley (4th year PhD), Scott Rice (3rd year PhD) and Alex Hindle (1st year PhD) were awarded first prize at the National SCI/ RSC Retrosynthesis Competition, held at the Royal Society of Chemistry, Burlington House, London on 13 March 2020. The team are early career researchers from Professor Adam Nelson and Professor Steve Marsden's research group within the School of Chemistry.
It is a national competition, attracting entrants from universities and industry. A large number of teams submitted their solutions, for which ten teams were then shortlisted for the national final. The day involved the teams presenting their solutions to the judges and their peers, and were also questioned on their route and the choices they made. The event ended with the Leeds' team winning the top prize, followed by team "Carbene there, Done that" from GlaxoSmithKline (second place), and team "The Frustrated Lewis Pair" from Oxford/ UCB in third place.
Retrosynthesis is the process of breaking a target molecule apart until available starting materials are reached. This gives a forward synthesis for execution in the lab. Professor Steve Marsden said,
The team proposed the synthesis of a highly complex natural product that has never been made before. This stern challenge required them to draw on their scientific, teamworking and communication skills.
Professor Adam Nelson added, "The teams of early career researchers that made it to the national final came from a range of different universities and companies. The winning team from Leeds did brilliantly to triumph against this strong field!"
Andrew Gomm from the Leeds team expressed that the team worked really hard and everyone is happy the hard work has paid off. He added, "It was a very fun day and has been a very rewarding opportunity to build on our teamworking and communication skills, as well as keeping us up-to-date with new and emerging science."
We are very grateful to the SCI and RSC for putting on this event. It was a great chance to network with people from industry, academia and the judges who are leaders in their field.
The National SCI/ RSC Retrosynthesis Competition is an annual event organised by the SCI's Young Chemists' Panel, SCI's Fine Chemicals Group, RSC's Heterocyclic & Synthesis Group and RSC's Organic Division Council. The annual event provides a unique opportunity to support and celebrate the talent of UK chemists working in academia and industry. More information about the competition and SCI can be found on the SCI website.