Guidance and support
Academic support and guidance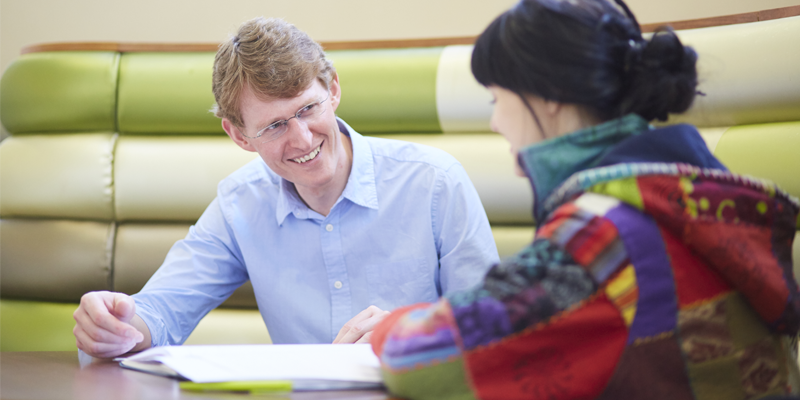 We're committed to helping you prepare for what's ahead in your research degree and future career. From day one, you'll benefit from a strong support network to guide you through your research degree.
Helping you to settle in
In your first month, you'll attend a number of inductions and events to help you settle in. These will include a welcome induction and an interactive online training course Starting Your Research Degree, where you will be able to explore further what is involved in getting a PhD, and the training and development opportunities that can support you. Throughout your PhD you'll also receive support from Leeds Doctoral College, which brings together resources of academic support and enrichment for you to enjoy as you carry out your studies.
Within one month of starting your degree, you'll complete a plan to help identify your training and development needs with your supervisor. This is a great opportunity to create personalised goals aligned to your research.
You'll work closely with a lead supervisor and one or more co-supervisors, who are experts in their fields, and will guide and support you during your research project.
Your supervisors are your most important contact and are responsible for:
agreeing a research project that is original and is feasible within the standard period of study
conducting a training needs analysis and ensuring that you receive appropriate research training
undertaking a minimum of 10 supervision sessions (5 for part-time postgraduate researchers) per year
advising on all aspects of the research and thesis preparation
commenting on your written work
ensuring you receive written feedback on the assessment of progress
assist you in publishing your research.
Your postgraduate community
When you come to Leeds, you'll join a friendly, supportive and diverse community of postgraduate researchers who come from all around the world. Our Doctoral College, which hosts research nights, showcases and social events, will be an important part of your life and development as a postgraduate researcher.
Postgraduate researcher facilities
All full-time researchers are provided with access to a computer, typically in an office shared with postgraduate researchers from the same discipline area.
You'll benefit from the University's extensive IT facilities including:
free wi-fi across campus
free downloadable Office Professional Plus
subject-specialist software.
You'll be able to discover library information resources, including vast collections of online journals, and will have access to one-to-one training and support.
You'll also be able to take part in our Researcher@Library scheme, which offers a wide range of workshops throughout the year.
Our rolling investment programme ensures the school has state-of-the-art, high-quality equipment and laboratories, which means you'll always be able to access appropriate laboratory facilities for your research.
In your studies you'll maintain a record of your research in the University's Graduate Record of Achievement and Development (GRAD) system – an important and useful tool in managing your research degree.
This University-wide web-based application will allow you to manage your training plan, upload files and reports, track your own milestones, request and record supervisory meetings, record training and view any feedback you may have received.