Graduate wins prestigious Salters' Award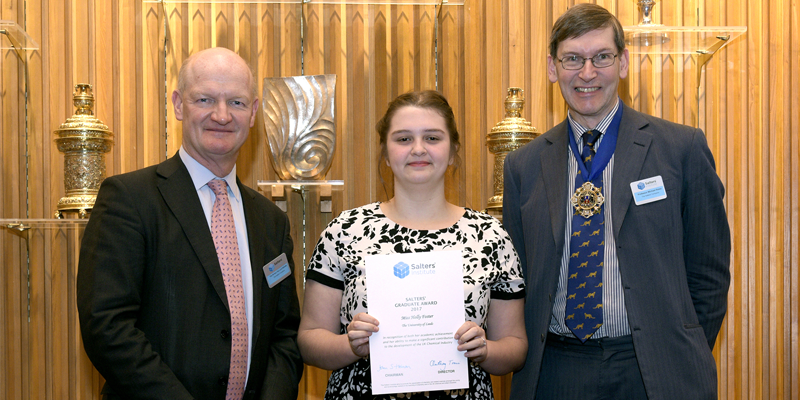 Holly Foster, MChem, BSc Chemistry graduate, has won a 2017 Salters' Graduate Award.
This is the second consecutive year that a graduate of the School of Chemistry has received this prestigious award, with MChem, BSc Medicinal Chemistry graduate Daniel Price receiving the 2016 prize.
The Salters' Graduate Awards celebrate the achievements of undergraduate students in chemistry and chemical engineering. Each year the Salters' Institute offers up to ten graduate awards, each of £1,000, to final-year UK undergraduates who are set to achieve a first class honours degree.
Candidates are nominated by their university's chemistry or chemical engineering department and those shortlisted are interviewed by a panel of academics and industry figures. Award winners must demonstrate the potential to occupy a leading position in public life through employment in the chemical or related industries. They are also assessed on their intellectual abilities, capacity to initiate and communication skills.
On receiving the prize, Holly said:
"I was thrilled to even be nominated by the School for the award, as there are so many extremely talented chemists in the year, so I could not quite believe it when I was awarded one of five national awards for chemistry. I think one of the main reasons that I was lucky enough to be chosen was a result of my efforts to start and chair the School's first student-led health and safety committee. This met several of their criteria such as 'capacity to initiate' 'ability to communicate his/her interest and enthusiasm to a wider audience' and 'ability to enlist the co-operation of others, whether colleagues or subordinates'.
"The main aim for the committee was to introduce a new health and safety culture into the department, which would have students at the forefront. To achieve this a new 'near-miss' reporting system has been introduced. The idea for this arose from my industrial placement year in AstraZeneca, at the Macclesfield site, where I worked for 6 months in process chemistry, and another 6 months in crystallisation.
"I want to take this opportunity to thank all members of the committee for all of their hard work and most importantly their enthusiasm for health and safety matters. Without them the committee would not have flourished and had such an impact in the running of the school.
"What's next for me? I am currently on a summer placement at AstraZeneca in Cambridge where I am gaining some experience in medicinal chemistry. In September I will be returning to Leeds to start my 4 year PhD programme run by the British Heart Foundation. As part of this I will be designing, making and testing compounds for the treatment of thrombosis. I think this will give me excellent exposure to the drug design process, which will ultimately equip me with the requisite skills to become a successful medicinal chemist in the pharmaceutical industry.
"This is the second consecutive year that a chemist from Leeds has won the award, which is testament to the level of teaching in the department. I would also like to say a big thanks to Dan Price, Chris Rayner, John Blacker and Steve Marsden for their advice and supporting my application. I'm thoroughly looking forward to networking with industry experts at the award ceremony in December at Salters' Hall."
Steve Marsden, Head of the School of Chemistry, commented:
"This is tremendous recognition of Holly's efforts – Salters' awards are widely recognised honours, and their focus on leadership potential marks them out as requiring more than just academic excellence. We've been lucky to benefit from the efforts of Holly and her colleagues who set up the SHE committee – they demonstrated true leadership, setting out a vision and bringing the cohort of students with them. The structure that Holly has helped put in place will serve the School well for years to come. All of this was achieved while maintaining outstanding academic performance as well, which is no mean feat. We're very proud to have had our graduates recognised in this way by the Salters' Institute in each of the past two years – it shows the standards that our students strive for and reach."
Congratulations Holly!