Professor Elaine Martin: Thank you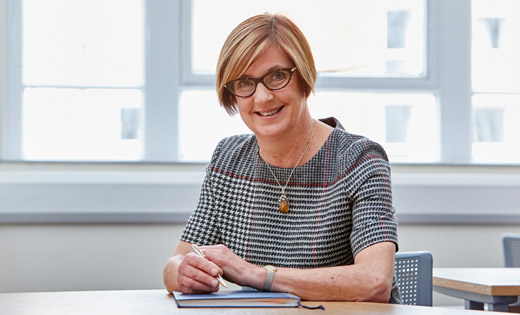 The School of Chemical and Process Engineering would like to thank Professor Elaine Martin for her work as Head of School.
Elaine took up the post of Head of School in January 2015 and since then has dedicated her time to leading the School through some very challenging times.
Elaine's tenure as Head has been sandwiched by two extreme events that probably have been the most disruptive in the School's history. From 2015 to 2017, the building refurbishment, and from March 2020 to December 2021, when COVID-19 disrupted academic life, and continues to demand innovation.
Even throughout this disruption, Elaine continued to put in place her vision for the School, bringing it together as one by removing the previous research institute structure, successfully heading the 'EPSRC CDT in Molecules to Product', championing our capabilities in the School of Chemical and Process Engineering at national and international level, and leading the University Technician Commitment.
Even throughout this disruption, Elaine continued to put in place her vision for the School, bringing it together as one
Elaine has been a fantastic Head of School, leaving a lasting legacy from her tireless work in the interests of staff and students. She has also been a highly valued colleague on the Faculty Executive Committee, combining humour with great perception and insight. Fortunately, Elaine will still be in the School of Chemical and Process Engineering, and I trust that we will continue to be able to count on her experience and wisdom in future School, Faculty and University endeavours.
Arriving with a fresh pair of eyes, a wicked sense of humour and a herculean work ethic, enabled Elaine to help make the School truly coherent and outward facing, which will be of lasting benefit in terms of its National and International standing. Never one to shirk a tough decision, she has managed to carry staff and students along this difficult journey.
Elaine's impact on our students has been outstanding – from recruitment events, leading accreditation activities, providing support to our students in challenging situations and the successful CDT application and development.
The ethos of the Technician Commitment plan is held in particularly high esteem by Elaine, and she is Chair of the University's Technician Commitment Steering Group. The Commitment champions the work of all Faculty/School technicians within the University, focusing on improving the visibility of the work technicians perform, recognising the important contribution they make, ensuring there is career development opportunities and that our technicians view the University as a long-term career choice.
Elaine remains a very active member within the School and will continue to lead on the CDT, Technician Commitment as well as being involved in many external bodies, the Institution of Chemical Engineers and Engineering and Physical Sciences Research Council.
We all wish Elaine a more tranquil time in years to come, to have time to pursue her interests in her professional and personal life, and thank her for the huge amount of work she's done over the past seven years.
Credit:
Professor Nora de Leeuw, Executive Dean (EPS)
Dr Jim Young, Faculty Director of Operations (EPS) and former Deputy Head of School (SCAPE)
Dr Nicole Hondow, Director of Student Education (SCAPE)
Professor Rik Brydson, Director of Research and Innovation (SCAPE)