Designing Intelligent manufacturing systems of the future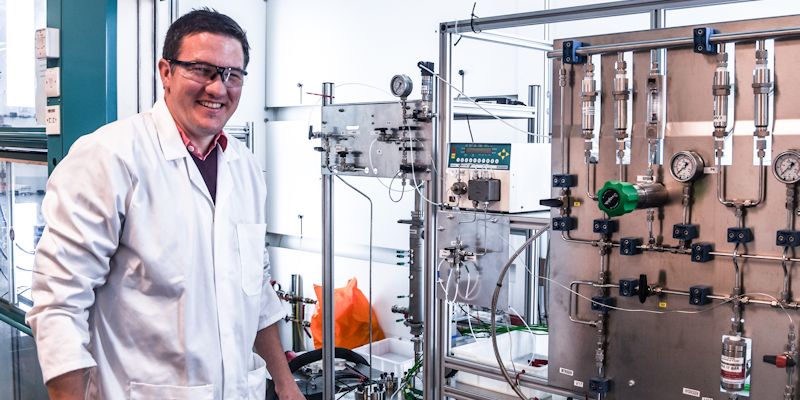 A new type of 'self-optimising' chemical manufacturing technology, which incorporates Artificial Intelligence into its design, has resulted in reduced costs and shorter production times.
The £1.2m technology, funded by the Engineering and Physical Sciences Research Council (EPSRC), uses computationally intelligent algorithms that enables the system to 'self-optimise' without the need for human interaction. It aims to drastically cutting the time it takes to develop a new flow process, which is used when producing high-value chemicals.
A team of researchers led by Dr Richard Bourne, from the School of Chemical and Process Engineering, are developing the technology. It builds on the novel research already developed in Leeds, which aims to integrate molecular descriptors with external manufacturing pressures, such as material supply, to guide these algorithmic approaches.
The project team includes researchers from Leeds University Business School and the University of Bristol. Their skills and experience will open up a new field of research, building a significant cluster of intelligent manufacturing expertise in the UK, in both academia and research.
This arm of the project, delivered in partnership with Syngenta, will focus on applications in the agrochemical sector such as manufacturing pesticides and herbicides. However, the technology can be applied across a wide range of sectors.
Major benefits to the economy
The award follows a £2m collaboration with AstraZeneca and the University of Leeds, funded by the EPSRC and led by Dr Bourne. The research reduced the time it takes to safely get a new medicine from lab bench to commercial use, a complex process previously taking up to longer than 10 years.
The 'self-optimising' technology being developed by Dr Bourne and his team is driven by Artificial Intelligence, so it can run constantly for a more efficient production process at a lower cost.
Digitally optimising the manufacturing process in this way also benefits the environment, as better tuned processes mean less waste and greater yield of drug or chemical products from initial ingredients.
Molecules to Product
The University of Leeds hosts the EPSRC Centre for Doctoral Training (CDT) in Molecules to Product, which will equip the next generation of researchers with the skills to design, characterise and develop the next generation of chemical and material-based products.
CDTs provide structured PhD training, and aim to train tomorrow's leading researchers to address science related problems for the benefit of society.
Further information
Find out more about Dr Richard Bourne's research and the £1.2m EPSRC award.
Discover more about Dr Bourne's research in collaboration with AstraZeneca.