Aviation students win the Royal Aeronautical Society Aerochallenge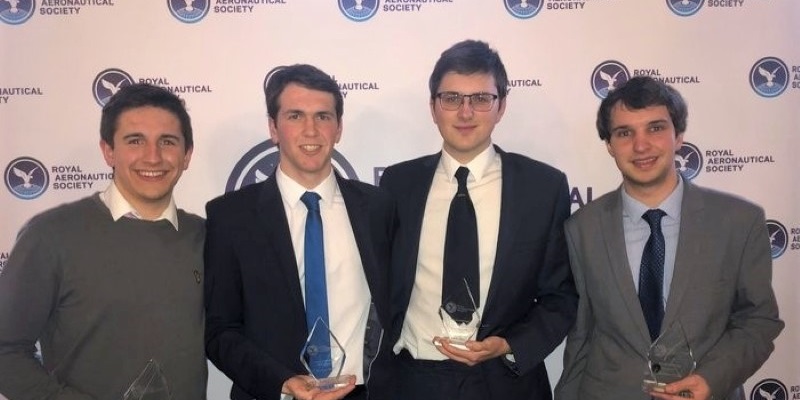 Students from the University of Leeds won this year's Royal Aeronautical Society's Aerochallenge, taking on fierce competition from industry leaders.
Every year, the Royal Aeronautical Society hosts the 'Aerochallenge'. This aviation and aerospace competition is for young people and attracts teams from both academia and industry.
On 4 March 2020, the School of Chemical and Process Engineering took a team of Aviation Technology students to compete at the Royal Aeronautical Society Headquarters, London.
Comprising of George Farrington (Year 3), Alexander Atkin (Year 2), William Jones (Year 3) and Alex Middleton (Year 2), the University of Leeds team competed against 26 other teams including industry leaders Airbus and BAE Systems.
Alex Middleton said: "The LUU Aviation Society worked alongside the School of Chemical and Process Engineering to select a team, and enable the team to travel to London for the challenge. All students voluntarily took part in the Aerochallenge as an extra-curricular activity, and the team's entry in the competition was organised by myself on behalf of the team."
Testing knowledge
The competition day began with a pub-style quiz, consisting of 70 questions on topics from Aeronautical Discipline and Space to Current Affairs. The team's individual preparation scored them the win, leading by four points as they went into the technical challenge.
Alex explained: "Each team was given the challenge of creating a propeller-driven vehicle, using basic materials including a plastic bottle, an elastic band and paper clips. Points were awarded for distance travelled, lightness of the vehicle, sustainability of the materials used and the aesthetics of the vehicle. Teams had one hour to design and manufacture the vehicle, with 15 minutes to test and refine the design.
"Whilst our vehicle did not move far, the propeller did spin, unlike a number of other teams. This gave us enough points to maintain our first place from the earlier Pub Quiz-style questions, reaching the semi-finals."
Taking the title
The semi-final and finals each consisted of 10 questions. Anyone could answer a question but the team members weren't allowed to confer.
The University of Leeds team first went up against BAE Systems, narrowly beating them in the semi-final. Then, in the final, they challenged City University of London, winning 5-3 to take the title.
Alex said: "In the aviation industry, being able to work successfully as a team is vital. The overall success of the team is reflective of the quality of the Aviation Technology course at Leeds, and how it combines its academically-leading teaching in its field, with developing the key skills required by graduates for roles in the aviation sector.
"The event provided a great opportunity to network with other similarly-minded students and young professionals, and discuss the future of our industry with the people who are going to make the substantial changes required for its long-term prosperity."