bioProcessUK Poster Award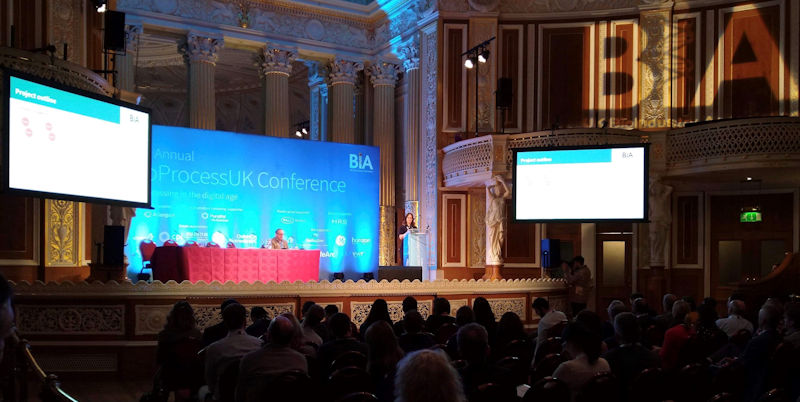 Holly Morgan received the Best Poster award at the 16th annual bioProcessUK conference.
Postgraduate student Holly Morgan was recently awarded the Best Poster award at the 16th bioProcessUK conference, held at St George's Hall in Liverpool, 26 – 28 November 2019. Holly is currently pursuing her PhD with Professor Bruce Turnbull and Dr Mike Webb.
Her research work on "Investigating Enzymatic Methods for Preparation of Protein Conjugates" aims to develop an orthogonal site-specific labelling technique using an enzyme called sortase. The purpose of the research is to expand the biochemical toolkit with applications in the biopharmaceutical industry such as developing antibody-drug conjugates and vaccines.
I've had a great couple of days at bioProcess UK and it's such an honour to receive the best poster award. It's been amazing to be given the opportunity to present my work on such an incredible stage in front of industry leaders.
Holly commented further that she was really surprised to be announced as the winner of the early career reseacher's poster competition due to the strong competition but she's delighted her hard work had paid off. Both Professor Turnbull and Dr Webb were equally happy with Holly's win.
We are all really delighted that Holly's hard work has been recognised by the UK Bioindustry Association. It reflects the important contributions that chemists can make to the biotechnology industry, who are now a major employer of our graduates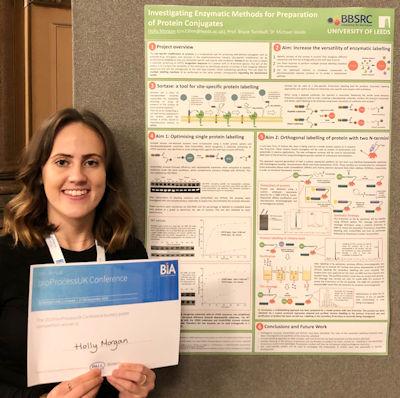 The bioProcessUK Conference is an annual event organised by the UK Bioindustry Association showcasing the latest news/ updates and developments within the manufacturing and biologics arena. Attending the conference has given Holly further insight to the challenges faced in the bioprocessing industry. The talks that she attended were based around the progression of the pharmaceutical industry in the digital age and the problems associated.