Leeds PhD student wins RSC Dalton Division prize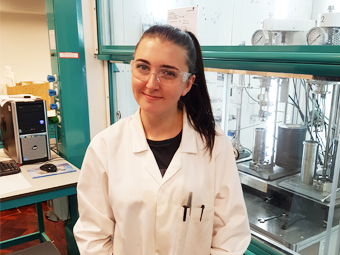 Rebecca Stones, PhD student in the School of Chemistry, won the prize for best poster presentation at the Royal Society of Chemistry's Dalton Division Northern Regional Meeting 2017.
Rebecca's winning poster, one of 3 winners chosen from 60 posters on display, was titled "Investigating the relationship between structure and performance in carbon nanoreactor supported nanoparticle catalysts." The conference was an opportunity for postgraduate and post-doctoral researchers working in inorganic chemistry to present their work, attended by over 100 delegates.
Congratulations Rebecca!
Additional information:
The Dalton Division of the RSC aims to promote the study and dissemination of all aspects of inorganic chemistry through the organisation of symposia and other special events. The northern region meets annually for a special one day conference. For more information visit their website.