Prof. Jim Guthrie awarded SDC Gold medal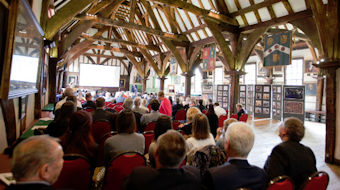 The Society of Dyers and Colourists (SDC) has awarded Prof. Jim Guthrie a Gold medal 'for outstanding contributions to education and industry in the fields of polymer and colour sciences'.
The SDC is the world's leading independent, educational charity dedicated to advancing the science and technology of colour worldwide. Their mission is to communicate the science of colour in a changing world. SDC is a professional, chartered society with an international network of regions and activities.
Jim, now retired, is Emeritus Professor of Polymer and Surface Coatings Science and Technology at the University of Leeds, where he worked for 44 years carrying out research on polymeric materials and their applications, in areas which include: medical diagnostic sensor systems; surface coatings; UV and EB curing systems; Non-textile coloration-inks, paints and plastics, and in drug delivery systems.
Throughout his time at the University Jim was also an active member of the teaching staff in the Department of Colour of Chemistry, latterly the Department of Colour Science in the School of Chemistry, sharing his knowledge with countless students over the those years.
The medal will be awarded at the SDC Day of Celebration 2017, which takes place on 19 May in York, UK. Further information about the Day of Celebration and a link to online booking is available on the SDC website.