Chemistry student awarded first prize at the 13th Annual Enzymes in Drug Discovery Summit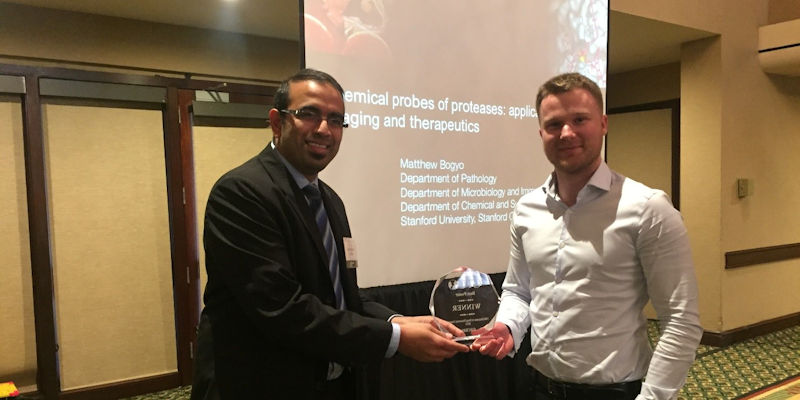 Lewis Turner, PhD researcher in the School of Chemistry has been awarded first prize at the 13th Annual Enzymes in Drug Discovery Summit in San Diego.
Lewis was awarded First Prize for Best Poster, with his poster entitled: 'Towards Selective FGFR Kinase Inhibitors: A De Novo Design Approach' in which he described how he has used computational molecular design coupled to synthesis and protein X-ray crystallography to probe the details of inhibitor binding to the FGFR kinases, which are an important target for anti-cancer drugs.
Lewis commented:
"It was an honour to be given the chance to present my research at such a prestigious conference in the U.S., and I was delighted to be awarded the first-place poster prize! The chance to meet and network with the leading experts in my field was unforgettable, and I have gained insight into the crucial role interdisciplinary collaboration plays in successful drug discovery. The meeting has inspired me to continue on the path of medicinal chemistry with the hope that one day, I will contribute to something that really does make a difference."
Lewis is currently in the final year of his PhD working under the supervision of Professor Colin Fishwick and aims to complete his PhD studies by the end of March this year.
The summit featured four targeted areas of research:
Protein Kinases in Drug Discovery
Novel Approaches, Tools and Technologies in Kinase Drug Discovery
Kinome Selectivity & Clinical Translation
Ubiquitin Research & Drug Discovery
Novel Drug Targets in the Ubiquitin System
Advances in Ubiquitin-like Modifications
Epigenetic Enzymes in Drug Discovery
Epigenetic Modification &Transcriptional Regulation
Novel Therapeutic Targets &Translational Studies
Protease Inhibitors in Drug Discovery
Chemistry and Drug Design of Protease Inhibitors
Protease Inhibitors in Translational Research
Further information
Find out more about the School of Chemistry by visiting their website.