The Astbury Conversation 16 -17 April 2018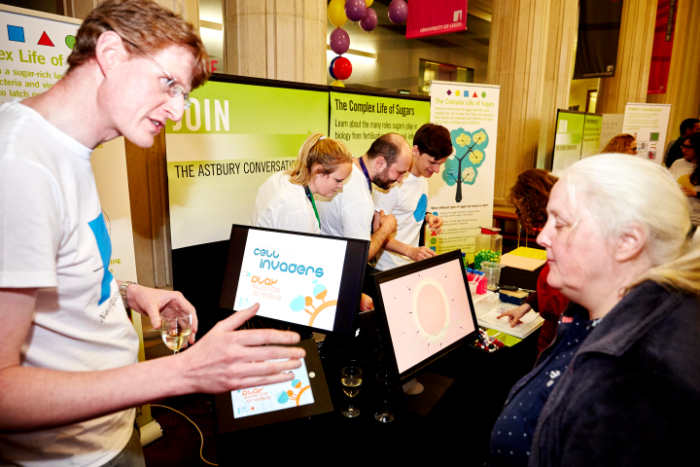 Date: Monday 16 April 2018, 15:45 – 17:30
Location: Parkinson Building
Interval: Every day
Until: Tuesday 17 April 2018
Type: Conferences
Cost: Free
The second biennial Astbury Conversation will bring together 300-400 leading scientists to discuss the most recent progress on the topic 'Understanding Life in Molecular Detail'.
The Conversation 2018 focuses on the topic 'Allostery in Biology'. A packed programme will feature internationally-renowned speakers and researchers from closer to home, culminating in a public lecture from Nobel Prize winner Professor Brian Kobilka renowned for his work on GPCRs and drug design in this important class of proteins
The Symposium "Allostery in Biology"
Monday 16 and Tuesday 17 April
Price: £49.00 (Symposium only) ¦ £139.00 (Symposium & Accommodation)
Researchers registering for the Symposium will automatically be registered for both Public Events.
Please note: the first time you register for this Symposium event, you will be asked to create an account and password, which you can then use subsequently to track your booking, make payment and upload abstracts, if applicable.
The Public Event and Lecture
Tuesday 17 April: "Understanding More About the Secret Life of Molecules"
Time and Location: 3:45pm - 5:30pm at Parkinson Court
Price: FREE
Members of the public, please register for the Public Lecture and/or the Public Engagement Event.
Further details about The Astbury Conversation event
A two-day academic symposium on the topic "Allostery in Biology" to include prestigious talks, selected presentations and poster sessions. Brief summaries about the speakers is available at www.astburyconversation.leeds.ac.uk, please do take a look. Talk slots are available and will be chosen from Abstracts.
Confirmed speakers include:
Brian Kobilka (Stanford University)
Katrin Rittinger (The Francis Crick Institute, London)
Carol Robinson (Department of Chemistry, University of Oxford)
Riki Eggert (Randall Division of Cell and Molecular Biophysics, King's College, London)
David Agard (Macromolecular Structure Group, University of California, San Francisco)
Richard Bayliss (The Astbury Centre for Structural Molecular Biology, University of Leeds)
Hagan Bayley (Department of Chemistry, University of Oxford)
John Briggs (MRC Laboratory of Molecular Biology, Cambridge)
Babis Kalodimos (Department of Structural Biology, St. Jude Children's Research Hospital)
Jim Naismith (Division of Structural Biology, University of Oxford) (Director of the Research Complex at Harwell)
Adam Nelson (The Astbury Centre for Structural Molecular Biology, University of Leeds)
Matthias Rief (The Institute of Molecular and Cellular Biophysics, Technical University of Munich)
There will also be thePlenary Public Lecture by Nobel Laureate Professor Brian Kobilka of Stanford University, entitled 'G protein coupled receptors: challenges for drug discovery'
And finally "Understanding More about the Secret Life of Molecules", a science exhibition featuring many weird and wonderful activities and information stands, followed by a wine reception.
Register here for the symposium here for just £49 without accommodation, or £139 including one nights accommodation.
Register here for the public event and plenary lecture – this is FREE to all, but you need a ticket to attend.