Leeds scientist wins international grant to fund research into sustainable chemical processes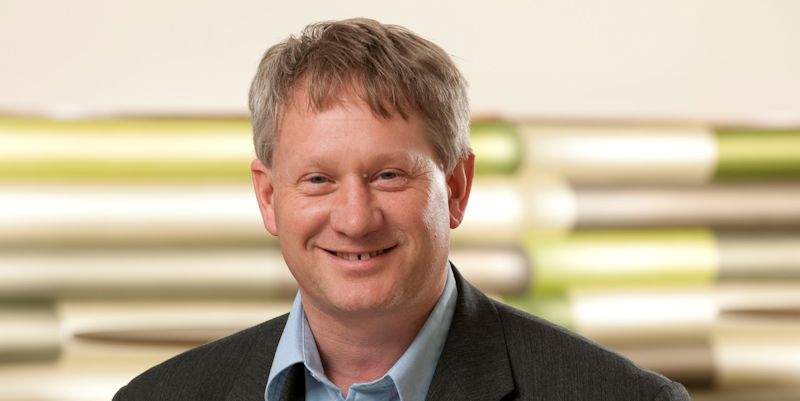 Professor John Blacker, from the Institute of Process Research and Development, has received a $50,000 grant from the American Chemical Society Green Chemistry Institute Pharmaceutical Roundtable.
His winning grant, from the American Chemical Society Green Chemistry Institute (ACS GCI) Pharmaceutical Roundtable, proposal is titled, "Process Development of Continuous Flow Oxidative Biotransformations."With this award Professor Blacker will research the use of continuous flow processing methods for biological catalysts that use oxygen, a clean oxidant. Continuous flow refers to a process for making chemical products using a continuous stream of inputs in a small reactor. It is considered a safer alternative to the traditional method of large-scale batch processes.
"A key aspect of the research is to increase the reaction rates … through a variety of techniques including engineered enzymes, design of appropriate reactors and processes," says Blacker. Working with a cross-disciplinary team consisting of a biologist, chemist and engineer, Blacker hopes their research "will contribute towards greener methods for manufacturing complex organic chemicals."
The roundtable identified priority green engineering research areas for pharmaceutical and fine chemical companies in 2011. The focus of this year's grant awards is to catalyze research in continuous flow chemistry and engineering.
"Flow chemistry/continuous processing have shown great promise in modernizing pharmaceutical production methods," says Stefan Koenig, Ph.D., roundtable co-chair and scientist at Genentech in South San Francisco, California. "With these grants, the roundtable is funding cutting-edge methods that advance chemistry within the pharmaceutical industry and make it sustainable over the long term."
Professor Blacker was one of three awardees. The others were Amanda Evans, Ph.D., at California State University in Fullerton and Graham Dobereiner, Ph.D., at Temple University in Philadelphia.
Since 2005, the roundtable has given $1.78 million dollars in research grants to advance the sustainability profile of pharmaceutical processes using green chemistry techniques.
The ACS GCI Pharmaceutical Roundtable brings global industry leaders together to catalyze the implementation of green chemistry and engineering. Current members include Amgen, AstraZeneca, Boehringer Ingelheim, Bristol-Myers Squibb, Codexis, Eli Lilly and Company, GlaxoSmithKline, Johnson & Johnson, Merck & Co. Inc., Novartis, Pfizer Inc., Roche, Sanofi and ACS GCI.
The ACS Green Chemistry Institute®, a part of the American Chemical Society, is dedicated to catalyzing the implementation of green chemistry and engineering throughout the global chemistry enterprise. The ACS GCI convenes industrial roundtables, holds an annual Green Chemistry & Engineering Conference.
A. John Blacker, Ph.D.
Credit: University of Leeds
American Chemical Society
1155 Sixteenth Street, N.W. Washington, D.C. 20036 T [202] 872 6042 F [202] 872 4370 www.acs.org
#16-133 Released: 4/15/16
(gcande.org) and offers educational resources including grants, awards, webinars and workshops—
encouraging scientific innovations to solve environmental and human health issues facing our world today.
The American Chemical Society is a nonprofit organization chartered by the U.S. Congress. With nearly
157,000 members, ACS is the world's largest scientific society and a global leader in providing access to
chemistry-related research through its multiple databases, peer-reviewed journals and scientific
conferences. Its main offices are in Washington, D.C., and Columbus, Ohio.
To automatically receive news releases from the American Chemical Society, contact newsroom@acs.org.