Hossein Farhani
Course: Energy and Environment MSc
Hossein Farhani is currently studying Energy and Environment MSc in the School of Chemical and Process Engineering at the University of Leeds.
Why Leeds?
Hossein decided to study Energy and Environment MSc because it addresses some of today's major challenges. Reflecting on his choice, he said: "Before getting into this program, my understanding of climate change, global warming and energy use worldwide was limited to what I heard and saw on the news."
"However, in the past 2 years, I realized that many of the impacts can be mitigated and restored gradually by adopting more environmentally conscious practices in domestic and commercial sectors. This sparked an interest in this field and led me to pursue higher education in Energy and Environment MSc."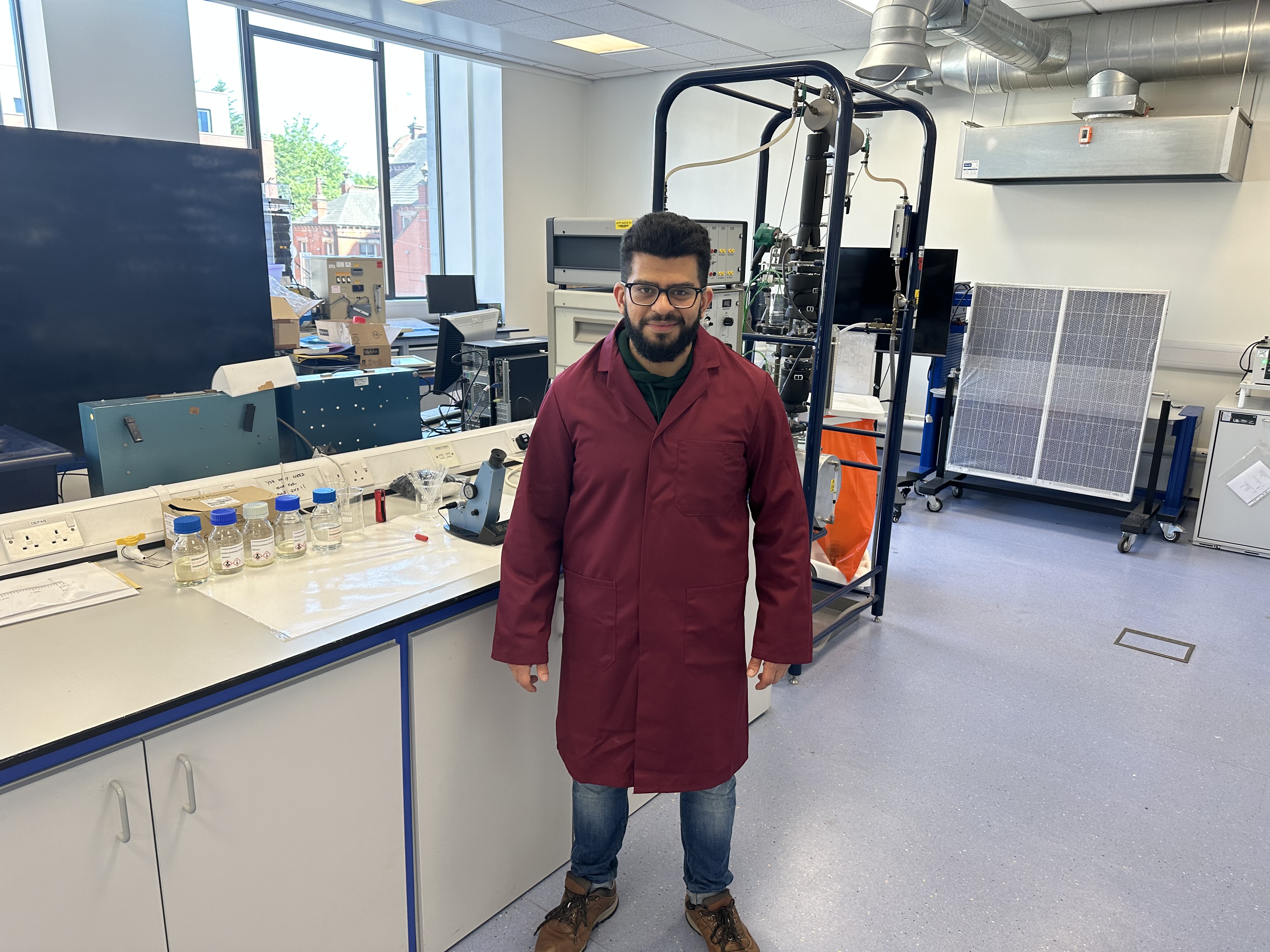 Additionally, Hossein decided to study at Leeds because it has a diverse and vibrant student community. He said: "I chose Leeds due to its reputation of being a student-friendly city with vibrant and diverse nature which brings many cultures around the world under one roof."
Studying solutions to the climate crisis
Hossein studied a wide variety of modules including renewable energy and the environmental impact of pollution. He said: "The lecturers and support staff were attentive, helpful, and always there when I needed guidance. My program was structured clearly with high teaching standards, which allowed me to fully benefit from my time in the classroom as well as the self-study at home."
"The course gives a solid ground for understanding the issues related to energy use and the environmental impact associated with releasing pollution and GHG emissions into the atmosphere. Also, it gives an insight into the technologies or engineering solutions to mitigate some of the impacts."
Hossein liked studying the solutions to real-world problems, with the course covering both engineering solutions and the importance of government policy. He said: "I studied the engineering solutions to the climate and energy crisis, such as using wind, solar and other renewable technologies, controlling pollution coming out of refineries by chemically neutralising the pollutant or breaking them down in less harmful emissions. I also studied the importance of government support through policies and regulation by carbon pricing."
I studied the engineering solutions to the climate and energy crisis, such as using wind, solar and other renewable technologies.
Researching the production of biodiesel
For his research project, Hossein conducted an in-depth analysis of biodiesel. He said: "I chose to do a research project on the Life cycle analysis (LCA) of the production of biodiesel. It aims to produce a transport fuel from 2nd generation feedstock (agricultural waste) which is more financially viable and environmentally friendly.
"I specifically looked after evaluating the emissions through performing LCA on the production phase and quantifying the environmental impact and determining the viability of the fuel through the results obtained."
"The excitement of doing this project was mainly due to the opportunity to work with highly professional people while learning new skills and boosting my self-development and employability."
Student life
As a postgraduate student, Hossein joined the Sustainability Society and made friends on his course. He said: "I had the chance to meet students that share similar views and made some good friends along the way."
"I am part of the Sustainability Society for the Faculty of Environment which aims to showcase the student contribution to environmental crises and promote a more sustainable way of life."
Building a career in sustainability
Hossein chose to do a master's degree to advance his career in sustainability. He said: "Working in a firm which works towards fighting climate change and global warming has always been something I wanted to do even before deciding to pursue my academic study in Energy and Environment MSc, and therefore, my future ambition is to be able to work in that realm."
Join us
Find out more about studying Energy and Environment MSc at Leeds.