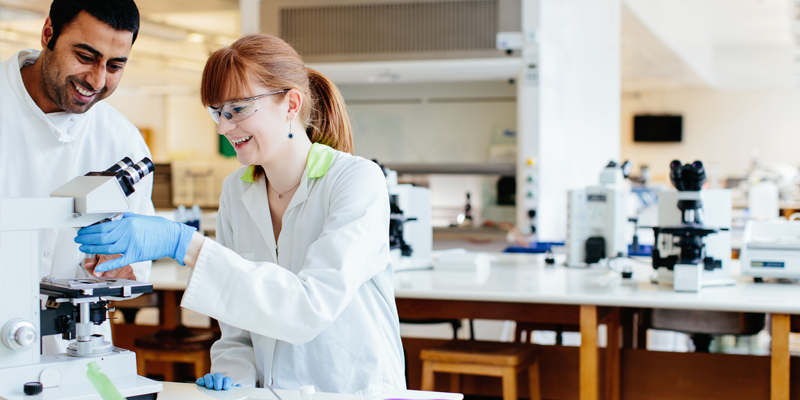 Studying for an MSc by Research can be an excellent opportunity to develop your intellectual and research skills and your academic interest in a particular field. The MSc by Research is a 12-month research project (24 months part-time). It is distinct from our taught Masters programmes which involve taught courses that are formally assessed with part of the year spent on a research project.
With support from your supervisors, you'll work full time on planning, implementing and writing up a research project for your MSc by research. You will be supervised by at least two members of academic staff and will be encouraged to submit your work for publication where appropriate.
By undertaking an original piece of research, you will develop a mixture of high-level subject-specific and generic skills, including:
Project management: the ability to organise, plan and carry through to completion a novel research project.
Technical expertise: project dependent but may also include good laboratory practice and advanced health and safety skills.
High-level oral communication skills: presenting work both internally and, in some cases, externally to project partners.
Teamwork: as a member of a research group you will work alongside other researchers, be involved in group meetings and discussing each other's projects and the wider literature, and in other relevant activities such as duties to keep the laboratory running.
Strong written communication skills: in writing up your research project, you will become proficient at critical analysis/discussion and explaining complex ideas.
Data analysis skills: data handling, collation, and critical analysis.
Self-motivation: although you will be closely supervised, you will have to be strongly self-motivated to succeed.
Find out more about research and innovation in the School of Chemistry.
MSc by Research projects
The MSc by Research is suitable for recent graduates who wish to follow up their first degree with more in-depth research in a particular field of interest.
You will be expected to carry out a programme of research in a particular area under the supervision of a primary supervisor and one or more co-supervisors.
If you have a research area in mind, you can first explore our research and supervisor profiles to decide if your intended research topic is likely to fit with any of the research the school is already undertaking. If there's a match please contact the academic to discuss your research topic in more detail.
Typically, studies begin in October, but MSc by research start dates may vary depending on the project.
Learning and teaching
As an MSc by Research student, you will have regular meetings with your supervisors and will receive training in research skills on the University of Leeds' research student training programme.
Assessment
The MSc by Research is assessed by a written thesis and by an oral examination. One key learning outcome of the Masters is that your research should be of a publishable standard.
Entry requirements
You will need a minimum academic entry requirement of a 2:1 Bachelor (Honours) or equivalent in chemistry, or a chemistry related subject, containing a research element.
English language requirements
English language requirements are as follows if English is not your first language:

• TOEFL score (internet-based test) of at least 92 overall with at least 21 in listening and reading, 22 in writing and 23 in speaking
• IELTS (Academic) score of at least 6.0, with at least 5.5 in all components
• PTE (Academic) score of 64, with at least 60 in all components
Find out more about English language requirements.
How to apply
Applying for an MSc by research is similar to applying for a PhD. Guidance on applying for a research project is available to view on our website.
Applications are welcome at any time of year unless you are applying for a funded project or scholarship/bursary with a deadline attached.
For application enquiries, please contact Graduate School admissions by email: maps.pgr.admissions@leeds.ac.uk
Fees
Fees are listed on the University of Leeds website.
Scholarships and financial support
Partial research-cluster fee bursaries are sometimes available for Masters by Research projects. Explore funding opportunities.
Contact us
For general Masters by Research questions or advice, please contact Professor Malcolm Halcrow.