Associate Professor David Harbottle
Position: Associate Professor
Areas of expertise: rheology; colloids and surface chemistry; suspensions and emulsions; surfactant science and multiphase flows.
Email: D.Harbottle@leeds.ac.uk
Phone: +44(0)113 343 4154
Location: 129 Engineering Building
Website: Googlescholar
Profile
David Harbottle (DH) is an Associate Professor in the School of Chemical and Process Engineering and an Adjunct Professor in the Department of Chemical and Materials Engineering, University of Alberta. Trained as a Chemical Engineer (MEng, Leeds 2004), he has specialized in colloid and interfacial science, and rheology (PhD, Leeds 2008). DH spent 5 years in North America at the City College of New York (US) and the University of Alberta (Canada), leading projects in the areas of chemical and structural characterization of asphaltenes, new chemical synthesis of functional polymers, and strategies for accelerated phase separation. Since returning to Leeds in 2014, DH has established a critical mass of research in: i) suspension and emulsion rheology; ii) droplet dynamics on surfaces; iii) asphaltene science; and iv) functional polymers and membranes. He is an Associate Member of the IChemE and Energy Institute. He is an author of over 100 scientific articles, 1 patent and 3 book chapters. He was previously a Director of Rheokinisis Ltd., a technology start-up developing tools for online rheology measurement.
Google Scholar link: https://scholar.google.co.uk/citations?user=RwKvYgcAAAAJ&hl=en
Previous group members (PhD and PDRA)
John Vickers (2018) – Air Products
Emily James (2018) – University of Cambridge
Kai Yu (2019) – Associate Professor, Jiangsu University
Johannes Andries Botha (2019) – Unilever, Port Sunlight
Mohammed Jeraal (2019) – University of Cambridge CARES
Suparit Tangparitkul (2019) – Assistant Professor, Chiang Mai University
Dr Huagui Zhang – Associate Professor, Fujian Normal University
Dr Ji Young – Korea Basic Science Institute
Current Group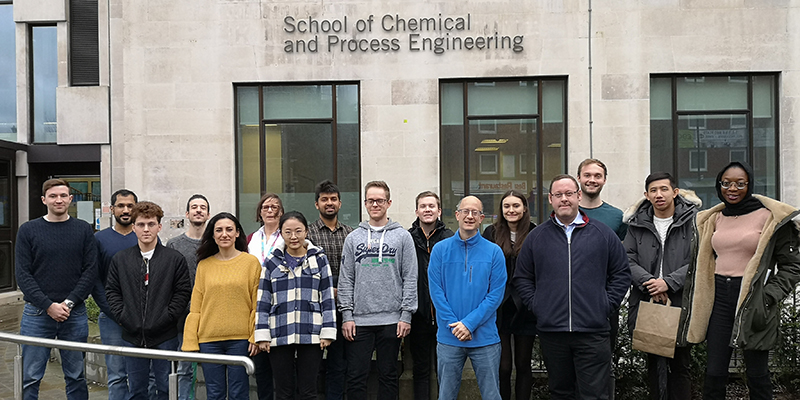 Responsibilities
Deputy Director EPSRC CDT in Molecules to Products
Program Lead Chemical Engineering, Petroleum Engineering and Petroleum Production Engineering
School of Chemical and Process Engineering EMB
Research interests
Download an overview of my research
Qualifications
2017 - Associate Professor
2014-2017 - Lecturer
PhD (2009) - Chemical Engineering
MEng (2004) - Chemical Engineering
Professional memberships
Institution of Chemical Engineers
Energy Institute
American Chemical Society
Student education
Program Lead MEng/BEng Petroleum Engineering, MSc Petroleum Production Engineering.
Research groups and institutes
Energy Leeds
Nuclear Leeds
Nuclear Engineering
Colloid, Polymer and Crystallisation
Current postgraduate researchers
Projects
<li><a href="//phd.leeds.ac.uk/project/980-bubble-growth-and-gaseous-release-dynamics-within-viscoelastic-nuclear-wastes-">Bubble growth and gaseous release dynamics within viscoelastic nuclear wastes </a></li> <li><a href="//phd.leeds.ac.uk/project/930-developing-a-novel-high-frequency-resonator-rheometer-">Developing a Novel High Frequency Resonator Rheometer </a></li> <li><a href="//phd.leeds.ac.uk/project/1033-stability-control-of-polyaromatic-compounds">Stability Control of Polyaromatic Compounds</a></li>