Careers and employability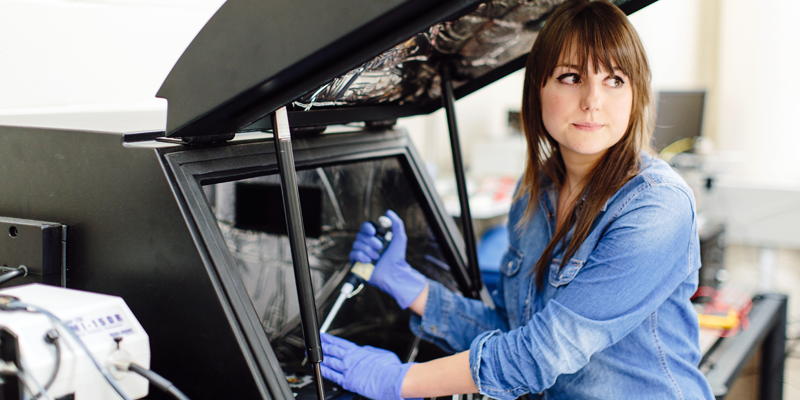 Looking to stand out from the crowd and secure that all-important graduate job in an increasingly competitive job market? Your degree from the University of Leeds and the wider experience you'll gain while you're studying here will help you to do just that.
University of Leeds students are among the top 5 most targeted by top employers according to The Graduate Market 2022, High Fliers Research.
Leeds is one of our biggest campuses for recruitment, the students are independent, resilient and fit perfectly with our vision to employ the leaders of tomorrow.
Recent graduates from the School of Physics and Astronomy have found positions in organisations including:
Alscient
BAE Systems
IBM
KPMG
King's College Hospital NHS Foundation Trust
Reckitt Benckiser
Schroders Investment Management Ltd
Unilever
Our close working relationships with a large number of key companies means that throughout your degree you'll be exposed to industry and prepared for a career in a professional environment. Read our alumni profiles to find out more about where our graduates are working.
Careers support
Throughout your time with us our dedicated employability team will be there to support, guide and advise you. In addition to specialist face-to-face meetings, you'll benefit from:
timetabled employability sessions
ongoing support to find internships and placements
presentations and workshops delivered by employers
Our employability team organises an annual STEM Careers Fair, which will give you the opportunity to meet recruiters to gain an insight into graduate jobs and explore work experience and internship opportunities. Recruiters at last year's event included, among others: CERN, BAE, AECOM, Unilever, BOC, Essar Oil and the National Nuclear Laboratory.
You'll also have access to the University's Careers Centre, which is one of the largest in the country.
Your personal tutor, who you'll meet with regularly, will be involved with guiding your academic and personal development. Your personal tutor will encourage you to keep a personal and active record of all you have done and achieved. This will help you complete application forms and prepare for interviews.
White Rose Industrial Physics Academy
We're a member of the White Rose Industrial Physics Academy which is a partnership between technical companies from across the region and physics departments at the universities of Leeds, Hull, Nottingham, Sheffield and York.
The Academy facilitate collaborations between physics students and industry, through internships, year in industry placements, final year projects and careers activities including the UK's largest physics focused recruitment fair.
For further information, visit www.wripa.ac.uk
Internship opportunities
We recruit a number of students to work during the summer months on research projects or teaching and learning projects. These are supported with personal development workshops and provide an excellent basis for students then wishing to apply for industrial placements with industry.
Examples of recent research projects include:
Working towards a commercialised liquid crystal contact lens
Exploring novel superconducting topological materials
Microwave resonators for space travel
Undergraduate Research and Leadership Scholarships
We also offer a number of alumni-funded scholarships to support you to develop research skills over two consecutive summers, led by an academic specialist. As well as participating in established academic research, you will develop leadership skills through training and conference attendance.
Employability interns
We recruit student interns each year to support the work of the employability team. The employability interns provide a valuable link to the wider student body, providing feedback to help shape the services that the employability team provide.
Leeds Internship Programme
We advertise a range of 8-12 week paid internships in local SMEs, charities, University of Leeds departments and multi-national organisations. Over half of these opportunities are exclusive to University of Leeds students.
Enterprising and volunteering
If you're keen to develop your entrepreneurial skills or set up your own business, then we have the facilities and experience to help you.
The University's innovative SPARK initiative can help you with business start-up support, advice and funding to develop an idea you may have into a viable business. You can take advantage of workshops to help you develop your knowledge and grow your ideas.
Clubs, societies and volunteering
Leeds University Union (LUU) runs over 300 student-led clubs and societies, bringing like-minded students together. Whether you want to pursue an interest or try something new to add to your CV, there's something for everyone. Physoc and AstroSoc are student-led societies that offer you a number of opportunities throughout your degree.
Volunteering is a great way for you to enhance your CV further and develop valuable skills, as well as giving something back to the community. The LUU has a number of student-led volunteering societies that you can choose to get involved with, such as Leeds RAG. There's also the chance to develop your own ideas into a project with the Leeds for Life Foundation cash grants.