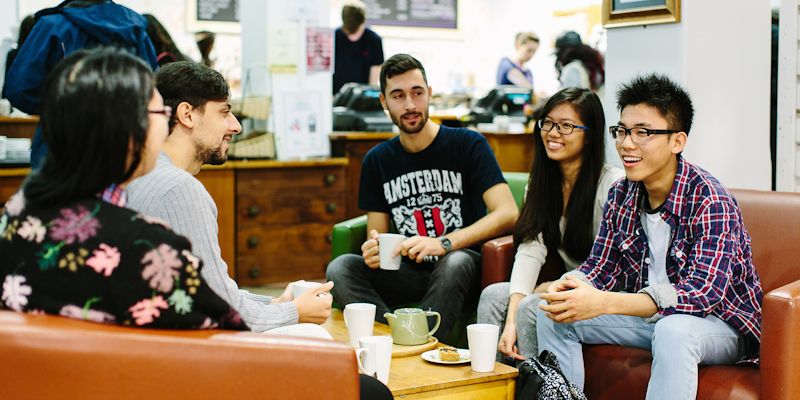 Leeds has one of the largest students' unions in the country. Leeds University Union (LUU) exists to represent, support and entertain you throughout your student years. The union has over 300 activities to choose from – you can get involved in anything from football to chess, wine tasting to skydiving, dance to 'a cappella'. You can even try your hand at Quidditch! Through the Global Community you can connect with students from over 140 different countries and take part in a range of international activities.
Physoc
The physics society "Physoc" is for all undergraduate and postgraduate students in the School of Physics and Astronomy.
Here's an overview of what the society does and the activities and events it runs.
What is Physoc?
Physoc is a student-run society for physics students. The society hosts trips, guest lectures and frequent socials.
What activities and events take place?
Physoc holds social events on a regular basis for all its members throughout the academic year. These include a wide range of our regular events; themed pub crawls, bowling, trampolining and nights out at our favourite watering holes. We are also open to any suggestions for socials from our members! We also organise highly successful guest lectures, so keep an eye out for those. We aim to cater for everyone when it comes to events and believe we have something for all of our members.
Along with our regular excursions, we have large one off events throughout the year such as the Christmas trip to Amsterdam, the summer trip to Geneva to visit CERN and our annual black tie event, the Physoc Ball. Keep an ear out for information regarding Physoc sport too! Members can expect to hear more from us throughout the year letting you know how to get involved in one of the most popular departmental societies in the university. We hope to see you soon!
What are the future plans for Physoc?
In the future, Physoc plans to only get bigger and better, with more socials, more guest lectures and different trips, so that we constantly ensure we have something for everyone. Our future is developed by you, so if you have suggestions for socials, or even simply what we can do to improve, drop us a message!
To find out more like 'Physoc LUU' on Facebook and follow @LUUPhysoc on Twitter.
AstroSoc
AstroSoc hold regular stargazing sessions and run fascinating lectures from people experienced in astronomy, astrophysics, and astrophotography. They run regular socials for everyone interested in the stars. At AstroSoc, you'll have the chance to see the wonders of the solar system and beyond in a friendly and informative environment. Overnight camping trips with unspoiled views of the sky are particularly popular.
To find out more follow @LUUAstroSoc on Twitter.