Mathematics artist-in-residence to feature in Venice exhibition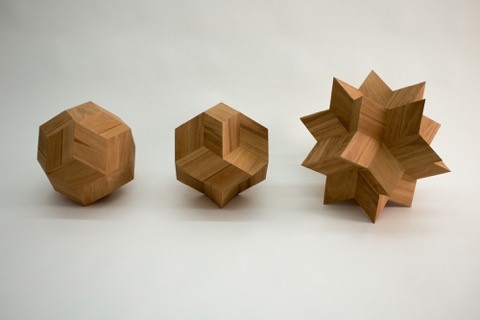 An artwork created by the School of Mathematics' artist in residence, Dominic Hopkinson, will feature in a prestigious exhibition in Venice this year.
The piece, "Tiling Variations in n=3 Space", will appear as part of the exhibition "TIME SPACE EXISTENCE" at Pallazzo Mora in the Italian city between 26 March and 25 November.
It was selected by the Global Art Affairs Foundation, a Netherlands-based group which curates on behalf of the European Cultural Centre. The exhibition features the work of 150 architecture practices from around the world, interspersed with pieces by 30 international sculptors.
Mr Hopkinson's work studies the impact of mathematics on the generation of form and structure. Specifically, he is interested in how the irrational number 1.61803, known as phi, or the golden ratio, acts as a seed that defines an iterative process whenever three-dimensional structure is created.
This phenomenon occurs at every scale in nature, defining atomic crystal lattices, cellular packing, why animals have stripes or spots, cloud formation and the distribution of matter throughout the universe.
Working in collaboration with scientists and mathematicians, Hopkinson analyses and distils this research, creating an algorithmic, iterative, haptic process that allows the fundamental mathematical action to auto-generate sculptural forms in space.
All his work is handmade, eschewing the use of technologies such as 3D printing and laser cutting, utilising instead traditional materials and processes such as stone carving, plaster and bronze casting and wood fabrication.
The exhibition opens with two days of private viewings and a day of public openings. Mr Hopkinson will travel to Venice for the openings between 21 and 28 May.