Engine Emissions Measurement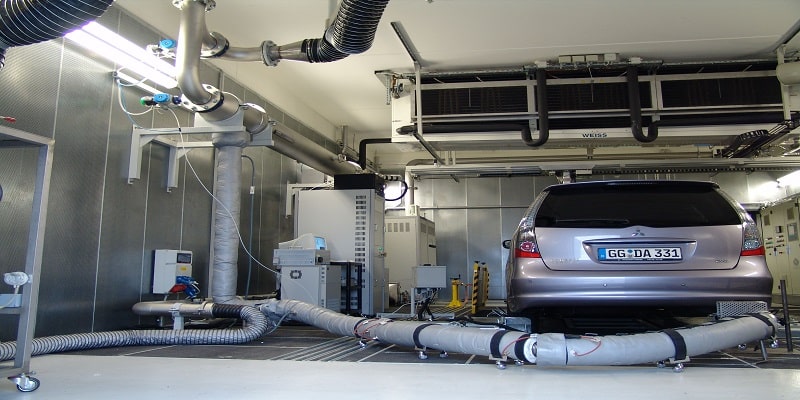 Start date: TBC
End date: TBC
Duration: Five days (although you can choose to participate on individual days)
Fees: £TBC
Venue: Weetwood Hall Estate
---
enquire
About the course
What will I learn?
This course is directed at both emissions legislation compliance, and at engine and catalyst development for low emissions. Passenger car emissions legislation measurement requirements are fully detailed for ultra-low emission SI and diesel vehicles. Heavy duty diesel emissions legislation measurement methods for on-road and off-road engine uses are fully described, including the latest European proposals for measurement of particle number as well as mass. The specialist areas of time-resolved emissions in test cycles for emissions control engine development is also covered in detail. The accurate determination of CO2 emissions and fuel consumption from the legislated test cycles is a major theme of the course.

The course also covers the fast growing area of in-vehicle emissions measurement for real world driving emissions measurement. Several areas are covered that are currently not regulated in Europe but are in the USA and may be regulated in future in Europe. This includes VOC speciation for ozone forming potential evaluation as well as air toxics and PAH speciation of diesel articulates for carcinogenic toxic emissions evaluations.
The programme also includes latest developments, techniques and implications of EPA1065/1066.
How will I benefit?
This is a specialist short course, and you'll benefit from extensive participation by lecturers from Horiba Instruments who aim to teach you the latest developments in automotive and industrial engine emissions measurement procedures and regulation compliance procedures.
Who should attend?
This course is for you if you're an engine emissions measurement personnel or supervisor. It's particularly suitable if you're a newly appointed staff member in these areas and you need to learn quickly about emissions measurement methods. It's also relevant if you're an operator of diesel and gas turbine electric generation equipment and you have to make emissions measurements, perhaps for the first time, under the Environmental Protection Act. It will be of interest if you wish to learn about the latest developments in emissions measurement technology.
It will also be relevant if you're an engine gas analysis system designer. It will be of particular relevance if you've recently been made responsible for engine emissions measurement and you need information on the design and operation of these systems. It's also suitable if you're involved in data processing of emissions measurements. Applications will be discussed in spark ignition, diesel and gas turbine engines.
Programme
The course programme is currently being restructured and developed for June 2020, click back soon to see the provisional programme or email us to be notified when further details are available e:cpd@engineering.leeds.ac.uk
Speakers
Industrial guest speakers include:
Cambustion Ltd

Ford Motor Company Ltd

HORIBA UK Ltd

Volvo Group Trucks Technology
Academic speakers from:
University of Leeds

The University of Manchester
Fee information
Full five days: £TBC
Any one day: £TBC
Fees are VAT exempt
Course fees include:
cost of tuition

comprehensive course materials (provided on USB) with a course notes booklet.

lunches

light refreshments

course dinner on Tuesday evening
View our terms and conditions
Venue details
The course will take place at Weetwood Hall Estate, which is situated to the north of Leeds at the junction of the A660 Leeds - Skipton road and the A6120 Outer Ring Road.​​
Weetwood Hall Estate
Otley Road
Leeds
West Yorkshire
LS16 5PS
UK
Accommodation
Accommodation
The course will take place at the Weetwood Hall Hotel and Conference Centre, which is situated to the north of Leeds at the junction of the A660 Leeds - Skipton road and the A6120 Outer Ring Road.
If you require accommodation, and wish to stay at the course venue Weetwood Hall Hotel, please contact Emma Barker E: reservations@weetwood.co.uk / T: 0113 230 6000 quoting 'CPD' and the 'Engine Emissions Measurement' course.
The below rates are for a superior double room and include VAT:
Sunday evening, bed and breakfast £84
Monday – Thursday evening, bed and breakfast £88
Please book your accommodation at least two weeks before the course commences to guarantee rates and availability. A list of alternative hotels is available on request. Delegates are responsible for their own evening meals except on Tuesday 16 June when the course dinner is included.
What our delegates say
"A great course for anyone who wants or needs a broad understanding of what is involved in tackling vehicle emissions and meeting legislation". Vehicle Certification Agency
"This course was great! As an engineer directly involved in emissions measurement this course greatly increased my knowledge of the industry I work in, as well as the equipment I would with every day. It provided a great deal of technical information, instrument theory, regulation background and history as well as real world problems that I deal with on a daily basis. I highly recommend this course." Nissan
"Arrived with limited knowledge. Improved my understanding of emissions." Honda UK

Contact us
Katie Warner – Course Coordinator
CPD Conference and Events Unit
Faculty of Engineering and Physical Sciences
University of Leeds,
Leeds
LS2 9JT
T: +44 (0)113 343 38104
E: cpd@engineering.leeds.ac.uk
Accreditation
This course is in association with the Institution of Diesel and Gas Turbine Engineers, which is devoted to the advancement of diesel and gas engines, gas turbines, and related products and technology.