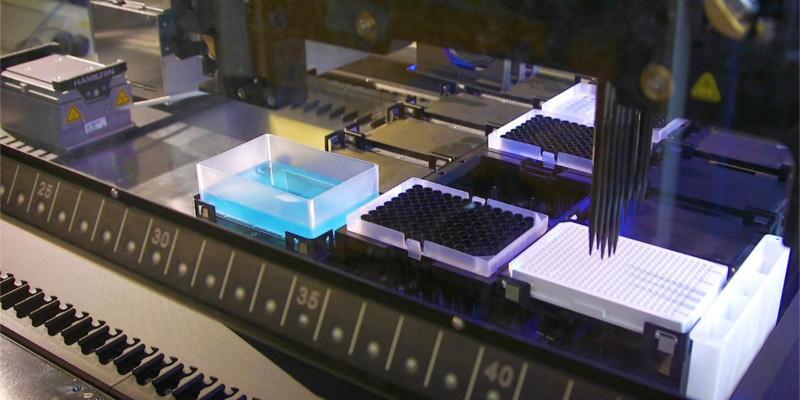 Leeds is a member of the Russell Group of research-intensive universities and the School of Chemistry is globally renowned for its research output. The Research Excellence Framework (REF) 2014 rated 95% of our work as 'world-leading' or 'internationally excellent'.
Our Chemistry degrees are shaped by our research activity. Knowledge is created by the academics you're taught by using facilities you may access. You'll be given the opportunity to conduct innovative research and make your own discoveries.
Year 4 research projects
Throughout your course you'll hone and develop your research skills. Our MChem, BSc courses culminate in an exciting research project that sees you apply the research training you've received to make your own contribution to chemistry. Your project will really open your eyes to the investigative nature of chemistry. It will also allow you to develop key transferable skills, such as communication and time-management.
Your research project gives you the opportunity to follow your interests and investigate a topic at the cutting-edge of chemistry. You'll work collaboratively with your supervisors throughout the project, who'll be experts in your particular research area.
Previously suggested project topics:
Physical chemistry
Molecularly imprinted sensors and catalysts
Membrane biophysics approaches to investigating the potential toxicity of engineered nanoparticles
Energy transport in photosynthesis
Third generation drug discovery: human-on-a-chip
Chemistry of cosmic dust
Organic chemistry
Green synthesis of peptides in continuous flow
Novel hydrogen transfer catalyst designs: addressing slow industry uptake of existing methods
Discovery of drugs and biomarkers for cancer therapy
Re-engineering bacterial toxins for drug delivery
Profiling the bacterial lipid proteome with chemical tools
Inorganic chemistry
Spin-crossover compounds - thermal, optical and magnetic switches from simple metal complexes
Star-burst metallo-supramolecular assemblies and coordination polymers
Nanomaterials chemistry: functionalisation and assembly of inorganic nanostructures (carbon nanotubes, graphene, metal oxide nanoparticles) for applications in heterogeneous catalysis and environmental remediation
Development of novel quantum dot-aptamer biosensors
Developing novel inhibitors for bacteria toxins via DNA nanotechnology
Colour chemistry
Use of natural dyes for dyeing natural fibres
Biosensors for point-of-care detection of bowel diseases
Porphyrin based materials for use in photodynamic therapy to treat bacterial infections
Synthesis and evaluation of photochromic materials for data storage devices