Aviation project work and facilities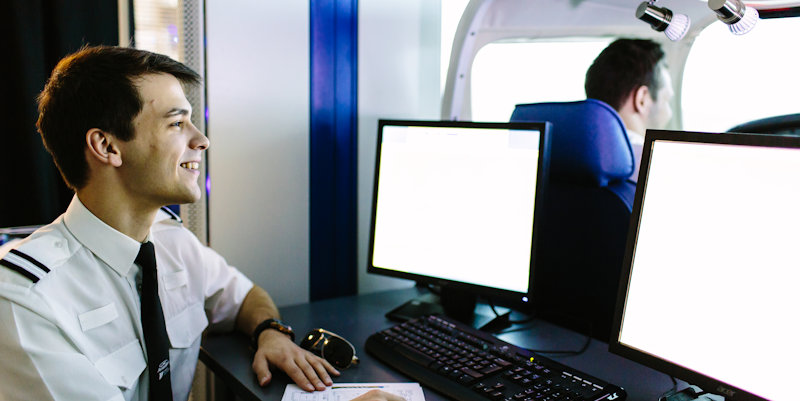 Project work
If you're planning a career within the aviation industry, either as a pilot or as a managerial or operational ground-based team member, it's vital that you have in-depth knowledge and practical experience of working effectively both individually and as part of a team.
Not only will our Aviation Technology with Pilot Studies and Management BEng enable you to develop a range of skills; including research, presentation and report writing but you'll also have the opportunity to work on a diverse range of projects throughout your degree.
Year one
The introductory group project is a major part of your coursework for the year. Aspects of aircraft design will be covered throughout your course and with this project you'll gain your first experience of the design process. You'll find that an appreciation of the design and construction of aircraft will be essential for your understanding of aviation technology.
In the professional world aircraft design is carried out by groups of engineers rather than by individuals so to reflect that this project is structured around group work. You'll be assigned to a group of students and you'll tackle the problem together. The result of the project will be marked individually to ensure that everyone in the group contributes.
Year two
Your first project will involve choosing a major airline that's either failing financially or not living up to its potential. You'll then design a new business model for it. You'll go on to develop and implement a plan for training the airline's senior management to deliver the new business model changes. This will be a group project, developing your skills as a member of a team who would be required to present at airline management level.
In your second project, you'll develop and present a five-year business plan for a newly set-up business within the aviation industry. Examples of the types of business include: an airline; an air-taxi business; an airport; or a commercial flight training organisation. This is an individual project, leading to an understanding of the feasibility, marketing and financial aspects of setting up and running a business within the aviation industry.
Year three
In Year three your first project will be based on techniques used to enhance emergency preparedness. Half of the student group will develop a scenario for an aviation accident and present this at an accident hearing, in the form of eye witness accounts and expert evidence. The other half of the student group will investigate the accident and report on its primary causes and contributing factors. You'll then swap roles for the second accident scenario.
The second project is set in 2021. You'll take on the role of civil servants to write the next air transport government white paper, setting out options for UK civil aviation through to 2030 and beyond. In doing so, you'll learn how to balance responding to ever increasing demand for air travel with the need to enhance the environmental sustainability of civil aviation.
In the Aviation Technology Team Project module, you'll work in groups of two or three on a major aviation project to develop your team work, organisational skills and critical analysis abilities. To give you an idea of what this might involve, project choices for the current academic year include:
An in-depth study of the Gas Turbine Engine using the Gas Turbine laboratory.
Working with AirTanker Services Ltd, which operates dual military/civilian-use aircraft, on a new design for aircraft re-configurability and in-flight entertainment.
Crew resource management: you'll examine distraction factors that affect flight crew performance.
Air crash survivability: you'll examine possible changes to cabin space seating and equipment to facilitate the survivability of passengers in the event of a crash landing.
Facilities
Our state-of-the-art flight simulators allow you to practise flying skills and investigate the design of aircraft. You'll have access to a range of facilities including:
Desktop computer flight simulators, with joysticks
Piper Seneca complex twin-engine Flight and Navigation Procedure Training (FNPTII) flight simulator
Airbus A320 airliner flightdeck simulator.