Offer Holders
Welcome to our community
Aviation Technology
Congratulations on your offer
Congratulations – we hope you're excited to receive your offer to study at the University of Leeds, an international, world top 100 university.
Going to university is an amazing experience. You'll join our friendly and diverse community of over 38,000 students from more than 170 countries. Being a student at Leeds means you'll make friends from across the world and become more globally minded, which is a great asset to future employers.
We want to make sure you have everything you need to make the best decision for your future, so on this page you'll find details on next steps, including how to accept your offer and apply for accommodation. You'll also have the chance to explore our campus and hear what our students say about their experiences here at Leeds.
Exceptional student experience
By joining Leeds you'll be part of a prestigious, research-intensive Russell Group university, where you'll gain skills that will be invaluable to you, personally and professionally. You'll get the chance to take part in research, tailor your experience and take advantage of life-changing opportunities. You'll benefit from some of the best university facilities available and you'll be supported every step of the way.
The best way to find out about life at Leeds is to chat to our students on Unibuddy.
Hear from our students
Discover more about student life at Leeds by hearing from some of our students who share their stories.
More

on 62bece9381b5f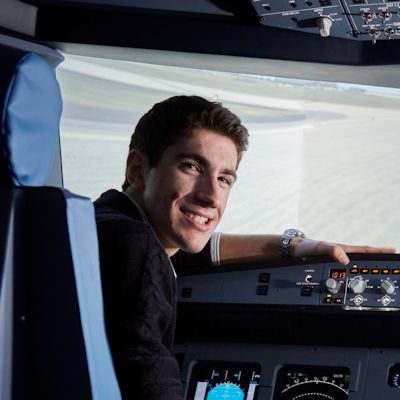 Why did you decide to study Aviation Technology with Pilot Studies at the University of Leeds?
The decision to study at Leeds arose from the need to develop knowledge around all aspects of the aviation industry, as well as prepare a foothold for the competitive job market for commercial pilots. The course's reputation along with the range of interesting content covered over the three years made it a desirable choice for further studies. Upon visiting the university to see the faculty's facilities and meet some of the staff, it further secured my choice and made Leeds my favoured destination upon finishing my A-levels.
Tell us about some of the exciting projects you have completed so far
Throughout the first year, there are a variety of assignments and projects to be undertaken. Each project requires different skills and applies the knowledge you gain from the course. For one project, we were split into fairly large groups and each group was assigned a specific aircraft. The objective was to first research the aircraft, then run experiments on an engineering-orientated flight simulator by changing aspects of the flight model. Nearing the end of the allocated two weeks, we presented our ideas to all of the aviation students and commented on the design choices made by the manufacturer, as well as possible areas for improvement based on our research.
What would you say to students coming to do the same course?
As well as the knowledge and skills gained from the course, the university's connections to different aviation bodies and organisations serves as a great tool to alumni who require guidance on a particular career path.
Read about Ioannis' experience studying Aviation Technology BSc
More

on Ioannis Matheos
Taster lectures and online courses
You'll be taught by internationally renowned, inspirational academics who are passionate about your subject.
Explore our campus and city
Preparing for your future
Make the most of the opportunities at Leeds, have an amazing experience, and give yourself the skills and confidence to stand out from the crowd.
We'll help you find work experience, improve your CV and offer advice on job applications, preparing for interviews and other options after graduation.
More

on Career planning
On our courses you have the option to take a year in industry, so you can apply your learning in an industrial context and develop both personally and professionally.
More

on Work placements
As a Leeds graduate, you'll join well-known names in a global network of more than 250,000 people in over 180 countries who all share a lifelong connection to the University of Leeds.
More

on A network of graduates
We're here for you
You'll benefit from a wide range of support services to help you feel safe and at home from day one.
Undergraduate courses
Visit our course pages for all the latest information about your chosen course.