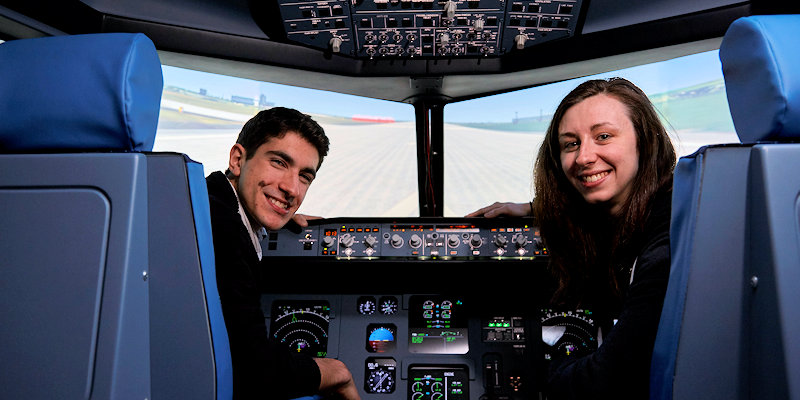 Leeds University Union (LUU) is one of the largest in the country, and its mission is to make sure students love their time at Leeds. With over 300 clubs and societies, there's bound to be something for you.
You can also connect with students from over 140 different countries through our Global Community, and take part in a range of international activities.
Aviation Society
If you have a passion for Aviation then during your time at Leeds you can join the Leeds University Aviation Society (AvSoc). The Society is open to all students who share an interest in the subject.
Here's an overview of what the Society involves and the typical activites that take place throughout the year.
What is the AvSoc Society?
It helps those with a genuine passion and enthusiasm for aviation to endeavour their interests while having a cracking time along the way. AvSoc hosts a variety of events and activities regularly throughout the academic year. With the opportunity to taste flight in a glider or powered aircraft to meeting up with people with a shared interest in all things aviation, AvSoc can make you soar high above the earth while you study here at Leeds.
Socials
The AvSoc calendar is full of regular varying socials. These begin in Freshers week with our White T-Shirt Party and campus renowned AvSoc Goes Bowling to our annual Christmas Dinner and regular meals and opportunities to relax and take a break from the studying.
Industry professional presentations and visits
As a member of AvSoc, you will have incredible opportunities to network and polish off your CV to get a solid foothold in the Aviation Industry. Meet commercial pilots from airlines worldwide, air traffic controllers, airport managers and government aviation advisers on campus and at airports across the country.
Flying and gliding
Have you ever wondered what it's like to taste flight? To take control of an aircraft and control it through the skies? You could soon experience this and tick off a box on your bucket list or your checklist to becoming an industry professional. AvSoc provides opportunities to experience gliding at our partnered Gliding School at York Gliding Centre or to taste powered flight at airfields around Yorkshire. You'll return to land with a grin ear to ear and will be determined to return to the skies at the next opportunity.
Student Women's Engineering Society (WES)
The Faculty of Engineering and Physical Sciences has its own Student Women's Engineering Society, which is run by female students, for female students.